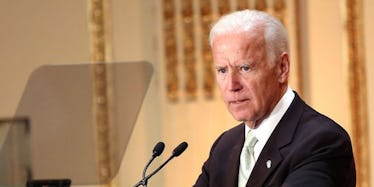 Joe Biden Is Fighting The Trump Administration's Campus Sexual Assault Plans
Monica Schipper/Getty Images
Former Vice President Joe Biden made combatting campus sexual assault a central part of his time in office, especially through the It's On Us project launched by the White House Task Force to Prevent Sexual Assault three years ago. Although he's not in office anymore, Biden is continuing his work on this important topic, even as new Secretary of Education Betsy DeVos and the Trump administration attempt to undo his efforts. A new It's On Us video shows Biden responding to DeVos' Title IX plans, and it's an inspiration for people everywhere fighting for rights on campuses.
The new video, which was released on Tuesday, Sept. 19, is in honor of the third anniversary of It's On Us, a campaign that brings everyone in to recognize that it's all of our responsibilities to prevent sexual assault. It's On Us is based more on social change than policy change, which is part of what gives it such a lasting potential. It doesn't rely on a certain administration in charge -- it just relies on people changing their behavior and opinions. Since the project's launch, over 300,000 people have taken its pledge to stand up against sexual violence.
"As long as I have a breath in my body, I am going to fight to change this culture," Biden says in the new video. "I won't stop, and neither should you. Please, please."
The Obama administration did a lot of work on campus sexual assault and Title IX, the act that says schools have to provide equal opportunities for students of all genders, which includes protecting students from gender-based violence and its aftermath. In 2011, the Obama administration sent a "Dear Colleague" letter to schools explaining that under Title IX, they are required to handle sexual violence cases in a timely manner, with investigations using a "preponderance of evidence" to determine rulings.
However, the Trump administration is undoing these efforts. On Sept. 7, Secretary of Education Betsy DeVos said in a speech that they would be rolling back these requirements, including the "preponderance of evidence" portion.
Biden is not at all pleased with these changes, and he's not staying quiet about it. When DeVos first made the announcement, the former vice president posted a long statement on Facebook, where he wrote,
Today's announcement that the Department of Education plans to rewrite key Title IX guidance which works to address and prevent sexual assault in our schools is a step in the wrong direction. The truth is, although people don't want to talk about the brutal reality of sexual assault, especially when it occurs in our most cherished institutions, it is our reality, and it must be faced head-on. And any change that weakens Title IX protections will be devastating.
Biden went on to explain that "sexual assault is the ultimate abuse of power" and that "policies that do not treat this epidemic with the utmost seriousness are an insult to the lives it has damaged and the survivors who have worked so hard to make positive change."
Biden continued to speak up about his disapproval of the Trump administration's plans in the new It's On Us video -- and he says he's not giving up. Biden says in the video,
You may have heard that the progress we made, the additional protections we put in Title IX, which is now the law that protects students from sexual discrimination, and that includes sexual violence. Now, the US Department of Education under new leadership is working to roll back the protections under Title IX that we worked so hard to put in place. We cannot let that stand. So don't give up. Speak out. Demand that your school continue to make progress. You know, we've exposed the brutal reality of sexual assault, and now is no time to turn back. Ask your friends to take the It's On Us pledge. The same pledge you took, to say that sexual assault and rape culture will not stand. Speak out and make your views known.
Those are strong words, and a rallying cry we can all take to heart. We all have a role to play in preventing sexual assault, speaking up about harmful policies, and changing rape culture.