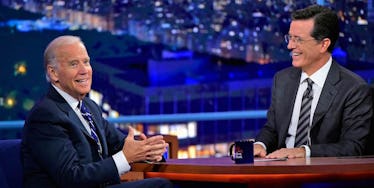 Joe Biden Just Crushed All Our Dreams Of Him Running For President In 2020
YouTube
Donald Trump may have won the electoral vote for this year's presidential election.
However, he wasn't the only man who came out of the race a winner.
Yep, thanks to an abundance of hilarious memes, Joe Biden won the hearts of people all over the country.
pic.twitter.com/XbFfUb2ibC — Joebama (@ObamaAndBiden) November 27, 2016
Biden recently appeared on "The Late Show With Stephen Colbert," where he tugged at the nation's heartstrings by toying around with the idea of running for president in 2020.
During the show, he said,
I learned that the way to become the most popular guy in America is to announce you're not running.
Biden revealed why he didn't run in the 2016 election. He stated his decision to skip out on a shot at becoming president was partially because of the devastating loss of his son Beau to brain cancer in May 2015.
If that's not enough to make you sob uncontrollably, you might want to grab a box of tissues because things are about to get even more heartbreaking.
During the interview, Colbert inquired about a few remarks Biden had previously made to a reporter about running in the next presidential election.
However, Biden quickly shot down the idea, responding,
I know. I did that for one reason: So now I can announce I'm not running and be popular again.
So yeah, it looks like our beloved Biden won't be on the ballot for the 2020 election.
After crushing our dreams of seeing Biden sitting behind the desk in the oval office, he did, however, give America a small glimmer of hope by saying,
I'm a great respecter of fate. I don't plan on running again, but to say you know it's going to happen in four years, I just think is not rational.
Still, Biden left us with a slightly optimistic outlook on the future of America by stating,
I can't see the circumstance in which I'd run, but what I learned a long, long time ago, Stephen, is to never say never. You don't know what's going to happen. Hell, Donald Trump's going to be 74, I'll be 77 — and in better shape. What the heck?
Seriously, Biden, stop playing with our emotions -- the last election has already put us through enough.
Citations: Joe Biden Denies a 2020 Presidential Run to Colbert, Then Teases: 'Never Say Never' (Vulture)