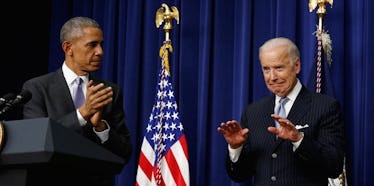 Ruthless Joe Biden Does Not Hold Back When Giving Advice To Trump: 'Grow Up'
REUTERS
Joe Biden lived up to his no-holds-barred reputation by coming out swinging against Donald Trump's lack of maturity on Thursday night.
Biden was interviewed by Judy Woodruff on PBS NewsHour in a segment that aired Thursday night. It was only fitting he took to PBS, known for its factual news reporting and educational children's shows, to berate Trump for acting like a child.
Woodruff asked Biden about Trump's methods of communication, which generally consist of reckless tweets not formed on the basis of factual reality.
Specifically, Woodruff referred to a tweet in which Trump called Senate Minority Leader Chuck Schumer "the head clown," and another in which Trump took a shot at President Barack Obama, disrespectfully calling him "President O."
As Woodruff recited these tweets, Biden smiled his knowing smile. He interrupted her, saying simply,
Grow up, Donald. Grow up. Time to be an adult; you're president.
He chuckled, continuing,
You gotta do something. Show us what you have. You're going to propose it in legislation, we're gonna get to debate it. Let the public decide. Let them vote in Congress. Let's see what happens. It's going to be much clearer what he's for and against -- and what we're for and against -- now that it's going to get down to actually discussing, in detail, these issues that affect people's lives.
This was a pretty good distillation of what many people would like to tell Trump.
Over the course of the election, pundits theorized Trump would one day make a "pivot" where he turned into an adult, no longer sending offensive, impulsive tweets and instead acting like a leader with some integrity.
That pivot did not come during the election and it has yet to appear in the presidential transition. At this point, it seems unlikely Trump will ever actually grow up and become more than an adolescent Twitter troll.
This is exactly why we need people with a platform like Biden to call him out the lack of seriousness with which he is meeting the needs of the people.
Citations: CNN