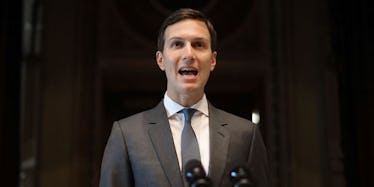 Jared Kushner Is In Israel For Peace Talks, And Twitter Is Not Impressed
Chip Somodevilla/Getty Images
White House Senior Adviser Jared Kushner, who also happens to be President Donald Trump's son-in-law (Ivanka Trump's husband), is bringing peace to the Middle East.
Well, he's trying to, at least.
Kushner is currently in Israel and met with Israeli Prime Minister Benjamin Netanyahu on Wednesday, June 21, in an apparent effort to jumpstart Israeli-Palestinian peace talks.
As Netanyahu met with Kushner, he embraced him and said,
This is an opportunity to pursue our common goals of security, prosperity and peace. Jared, I welcome you here in that spirit. I know of your efforts, the president's efforts, and I look forward to working with you to achieve these common goals.
Kushner responded, "The president sends his best regards and it's an honor to be here with you."
In relation to this meeting, it's worth noting Netanyahu and Kushner's father are friends.
President Trump has called on Kushner, who has little to no foreign policy experience, to head up his administration's efforts to establish what Trump has referred to as the "ultimate deal."
Kushner certainly has his work cut out for him, as the Israel-Palestine conflict is one of the most complex and controversial issues in terms of foreign affairs.
The U.S. has attempted to push for peace between Israel and Palestine for years, but has repeatedly failed.
Kushner arrived a day after Israel began construction on the first new Jewish settlement in the occupied West Bank in 25 years.
Earlier this year, Trump asked Netanyahu to "hold back on settlements for a little bit," as they are one of the primary reasons peace talks between Israel and Palestine are stalled.
To put it another way, Kushner has arrived at a time in which the Israeli government doesn't seem all that interested in making concessions and pushing for peace.
According to The Guardian, a Palestinian official condemned the new settlement and argued it deliberately undermines any talks of peace.
Highly experienced diplomats have fallen miserably short in this endeavor, which helps explain why people are skeptical of Kushner's chances of changing anything.
Kushner is 36 and a former real-estate developer, so it's fairly understandable why many aren't exactly confident in his ability to broker a peace deal between two historic and deeply divided enemies.
Only time will tell whether or not Kushner will find success in his mission to broker peace between Israel and Palestine.