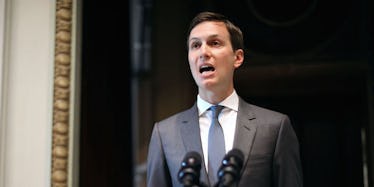 Jared Kushner Finally Spoke In Public And Twitter Lost It — VIDEO
Chip Somodevilla/Getty Images
Jared Kushner, husband of Ivanka Trump, spoke in public on Monday afternoon.
Now, for someone with a role in the Trump administration, this might not seem like such a big deal.
However, Kushner has actually very rarely spoken in public for our nosy ears to hear. Despite his public role, he's remained pretty silent in terms of addressing people in publicly recorded situations.
So, are you ready for this? Here is the one and only Jared Kushner... speaking!
Kushner addressed microphones as part of a tech summit run by the president's Office of American Innovation.
Kushner, his wife, the president, and Vice President Mike Pence were in attendance from the White House side. On the tech side, guests included Jeff Bezos of Amazon, Tim Cook of Apple, and Peter Thiel of long-held grudges.
So, Kushner was speaking about technology.
But mostly people were just surprised Kushner was speaking out loud in the first place.
Kushner's public speaking appearances are so rare that Last Week Tonight With John Oliver actually did a skit around what Oliver thinks Kushner's voice sounds like.
That segment aired back in April. Many were disappointed that Kushner does not, in fact, sound like that.
Kushner's public address came at a sort of uncomfortable time for him.
You may have noticed that the caption on that MSNBC clip isn't about the tech summit but, instead, about Kushner's legal team.
That's because The New York Times reported on Sunday that Kushner is considering changing his legal team. That team would be in charge of representing him should he need it as agencies investigate potential ties between Russia and the Trump campaign in interfering on the 2016 presidential election.
Kushner's lawyer now is Jamie S. Gorelick, who used to be a law partner with Robert Mueller at WilmerHale, a Washington firm. Mueller is now the special counsel leading the FBI's investigation.
Because of that connection, Kushner is considering getting a new lawyer for a potential case.
But given that we now know he can actually speak, maybe he should just consider representing himself.