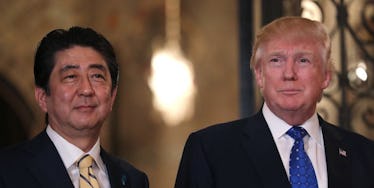 This Country's New Law Will Make You Rethink Moving To Canada To Escape Trump
REUTERS
If you're thinking about fleeing to Canada because of President Donald Trump, you might want to consider Japan as another alternative.
Before I get into why, I'd just like to take a moment and implore you to not leave.
We need good people to stay here and help make this country better.
But, if you must go, it's your life. You do you.
So, here's why Japan is a pretty good option if you're thinking about leaving the US of A.
Japan just made it a lot easier to become a permanent resident.
Japan is trying to attract highly skilled workers from overseas, so Japan's Ministry of Justice just changed the rules surrounding permanent residency, Business Insider reports.
Now, all immigrants become eligible for permanent residency after living in Japan for 10 years.
Highly skilled workers could gain permanent residency even sooner.
Back in 2012, Japan established a points-based system in order to shorten the wait period for highly skilled workers looking to become permanent residents.
After this, if you fell into three categories — advanced academic research activities, advanced specialized/technical activities and advanced business-management activities — and scored enough points based on the system's rubric, you could be eligible for permanent residency within five years.
The change Japan's Ministry of Justice just now shortened that period to three years for folks who score over 70 points and one year for those who score over 80 points.
In many ways, Canada's immigration process is far more selective. It's not as easy to move there as you might think.
Moreover, when you take a look at all the ways Japan is ahead of the US, you might seriously consider moving there.
Life in Japan is pretty good, especially compared to the US.
When it comes to quality of life, Japan is absolutely dominating the US on a number of levels, including life expectancy, the cost of healthcare and safety.
Take a look at the chart below for a comparison of life between Japan and the US.
So, when are you leaving?
Citations: Forget moving to Canada — it just got easier to become a permanent resident of Japan (Business Insider)