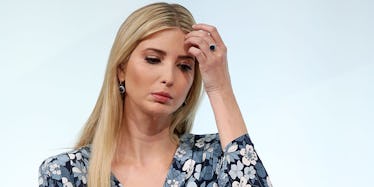 Ivanka Trump Blasted By Human Rights Campaign Over Pride Tweets
Sean Gallup/Getty Images
Last week, Ivanka Trump took to Twitter to show her support for the LGBTQ+ community.
This week, the country's most prominent organization advocating for that same community said it's not impressed.
Chad Griffin, president of the Human Rights Campaign (HRC), told Politico,
I would say we need your voice and we need it to be loud. An ally is not someone who tells people that they're an ally. An ally is not someone who sends a tweet to show that they're an ally. An ally is someone who stands up and fights for a cause.
Griffin's remarks came in a guest appearance on Politico's "Off Message" podcast, during which he regarded the pair of tweets sent out by Trump as a "PR attempt" to make her father's administration appear compassionate towards people who identify themselves under the LGBTQ+ banner.
As Politico noted, Griffin has long been a critic of President Donald Trump. The HRC president spoke on the stage of the Democratic National Convention, and the HRC as an organization endorsed Hillary Clinton during the campaign last year.
This week's "Off Message" made it clear why many members of the LGBTQ+ community oppose the president, too. The reason? A fear of losing rights.
Paula Vogel, a playwright, told Politico,
Do I feel right now that we're at a volatile moment? Absolutely. Do I feel we're going to lose these rights? I think it's a real possibility. Why are we not instead also looking at what right now is being policed instead of saying, 'Well, they're not policing me yet.' Where is that shift in empathy so that we see that we are all one community and the concerns of people that are scared, right?
Trump sent out the tweets to commemorate the start of Pride Month, which was established in 2000 by former president Bill Clinton.
Nearly two decades later, Griffin's criticism is a reminder that some are looking for more support from the current president.