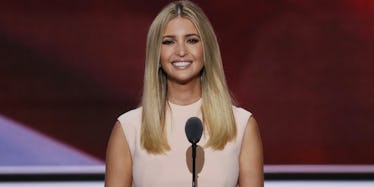 Ivanka Trump Wants You To Pay $50,000 For A Coffee Date With Her
REUTERS
If you've been hoping and wishing to snag a date with Ivanka Trump, who is married to Jared Kushner, you'll have to pay a hefty fee.
The 35-year-old businesswoman is auctioning off a rare coffee date for a staggering price. If you thought you were an expensive date, think again.
According to Cosmopolitan, a charity website called Charity Buzz is offering a 30-45-minute "coffee date" with Ivanka Trump for $50,000.
The date with the mother-of-three is said to be held at either Trump Tower in New York City or Trump International Hotel in Washington, DC.
The auction's description reads,
This experience will take place on a mutually agreed upon date from Jan 01, 2017 to Jan 01, 2018 based on the donor's availability.
Time to empty out your piggy bank!
Don't worry. Ivanka isn't attempting to scam you out of your hard-earned money so she can buy a new Birkin bag.
The report states that the proceeds collected from the auction will go to Eric Trump's foundation benefitting the St Jude's Children Research Hospital.
As of right now, with 10 days left, a bid of $18,500 has been placed.
I don't know about you, but that already seems like a large sum of money to pay ANYONE for ANY kind of date.
Isn't a cup of coffee from Starbucks worth like $6?
So, how does this all work? What if some crazy lunatic out there with cruel intentions has $50,000 to spare?!
Details posted on Charity Buzz state that "the winner and guest must pass criminal background check and be approved by the United States Secret Service."
In addition, the site hosting the auction lawfully "reserves the right to decline the winner on any grounds they deem fit."
Other rules state that the deep-pocketed winner may take a photo with Ivanka, but may not bring anything to be signed. That means you'll have to leave your red "MAGA" hat at home. Sorry, folks!
Lastly, it is stated that an active member of the United States Secret Service will be present during the coffee date (so don't try any funny shit).
While this once-in-a-lifetime opportunity doesn't result in a date with the president-elect himself, people do feel that the gesture could constitute a conflict of interest as far as the Trump family's business endeavors go.
Charity Buzz released a statement, which reads,
Charitybuzz brings its online community of bidders exclusive opportunities to live their dreams and make a difference. Our online auctions feature hundreds of acclaimed actors and musicians, sports stars, as well as business and political leaders all with varying political views. In light of the current political climate, we believe now more than ever there is a need for people of all political affiliations to come together and support important causes. We are proud to offer a bipartisan platform to raise funds for nonprofits around the globe.
In other words, the sole purpose of this particular auction is to bridge the gap between people "of all political affiliations" and bring people together to "support important causes."
This seems legit!
Hey, do you think Donald Trump would bid $50,000 if Ivanka Trump weren't his daughter?
Perhaps.
Citations: Ivanka Trump Is Auctioning Off A Coffee Date For $50,000 (Cosmopolitan)