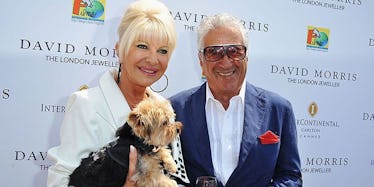 Ivana Trump, Ivanka's Mom, Is Making Some Business Moves, So Look Out
Francois Durand/Getty Images
The latest Trump business move is coming from a source you might not expect, Ivana Trump. According to Bloomberg, the 68-year-old former model -- and first wife of President Donald Trump -- has filed for a series of trademarks to protect future business endeavors. Trump's trademark requests were filed in June, and are mostly related to media productions, including books, movies, and celebrity promotions, Bloomberg reports.
With the latest request, Trump is following the example of her daughter and White House staff member Ivanka Trump. Since January, Ivanka Trump's company has reportedly registered four commerce-related trademarks. The first daughter has also been granted 10 preliminary approvals for trademark requests, according to Bloomberg.
The activity of the Trump women on the business front comes as little surprise. Ivanka Trump does indeed sell lots of products, some of which have attracted bad press. Her mother, meanwhile, this year signed a deal for a book about raising her three kids — Ivanka, Eric, and Donald Trump, Jr. The book will be Trump's fourth, with the previous three having been written during a three-year period in the '90s.
Trump's trademark requests aren't the only area in which she's mirrored her daughters moves during the past 12 months. Trump has flirted with getting involved in politics as well.
Back in November, just days after President Trump won the election, she told the press that she'd ask to be an ambassador to her home country, the Czech Republic.
She also insisted she doesn't need her last name for fame, telling the New York Post,
[That] is where I'm from and my language and everybody knows me. I'm quite known all around the world. Not only in America. I have written three books, and they were translated in 40 countries in 25 languages. I'm known by the name Ivana. I really did not need the name Trump.
Clearly, Trump does not lack confidence. Like president, like ex-wife.