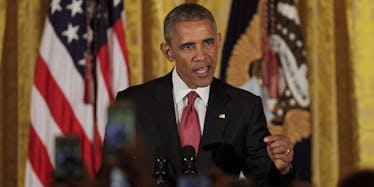 ISIS Threatens Washington, Says US Is Next In Its String Of Attacks
Getty Images
On Monday, ISIS released a video where it warned it will attack the United States in Washington DC, Reuters reports.
In the video, the terrorist organization contended all nations involved in airstrikes against it will suffer the same fate as France.
A man in the video reportedly stated,
We say to the states that take part in the crusader campaign that, by God, you will have a day, God willing, like France's and by God, as we struck France in the center of its abode in Paris, then we swear that we will strike America at its center in Washington.
This comes just several days after a series of devastating attacks in Paris that left at least 129 people dead, and just one day after France pounded ISIS with airstrikes in Raqqa, its capital.
Bombs dropped by USAF on ISIS today ("From Paris with Love") #ParisAttacks pic.twitter.com/RRW3yjjNyw — Paul Flannigan (@paulflan68) November 15, 2015
French President François Hollande described the Paris attacks as an "act of war" and vowed to show no mercy in France's response.
Thus far, the US and its allies conducted over 8,000 airstrikes against ISIS since August 2014, according to the Department of Defense.
This video, the authenticity of which hasn't been entirely verified, is unlikely to diminish military efforts against ISIS.
Citations: Islamic State threatens attack on Washington other countries (Reuters), White House We Absolutely Agree Paris Attacks Were an Act of War (ABC News)