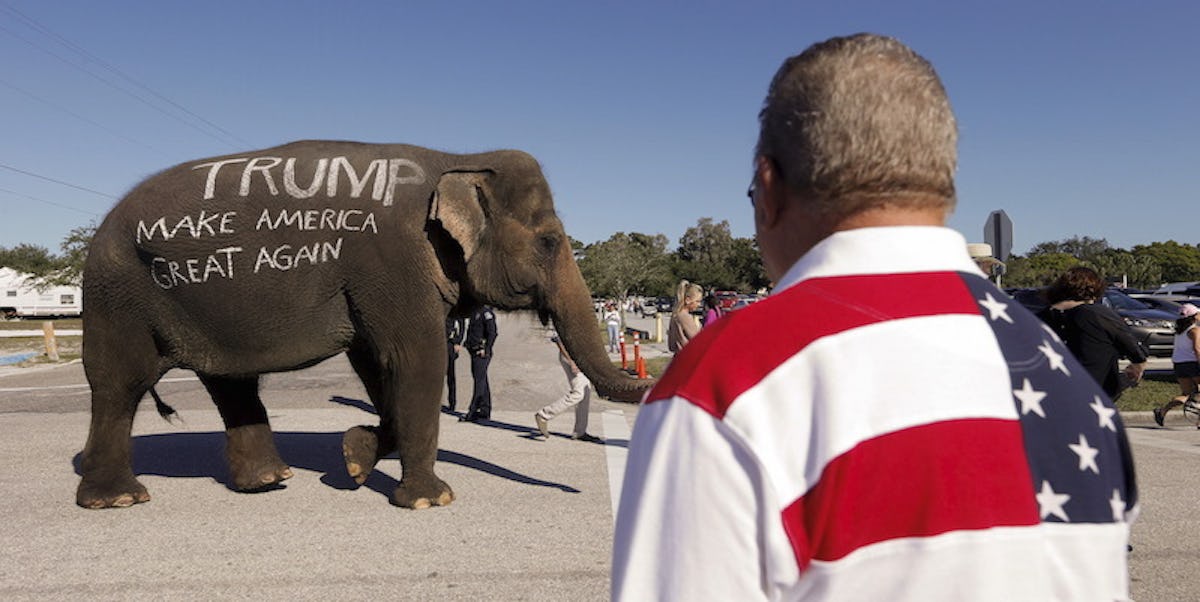 Humane Society Endorses Hillary, Calls Trump A 'Threat' To Animals In Video
REUTERS
On Wednesday, the Humane Society endorsed Hillary Clinton and released a video that described a Trump presidency as a "threat to animals everywhere."
The video features disturbing images of Trump's sons showing off animals they killed while trophy hunting.
Michael Markarian, the president of the Humane Society Legislative Fund, the political arm of the Humane Society, released a statement in conjunction with the video. He said,
The Humane Society Legislative Fund today announces its endorsement of Hillary Clinton for President, and the launch of a new ad campaign to inform voters that a Donald Trump presidency would be a threat to animals everywhere. In our view, Trump represents the greatest threat ever to federal policy-making and implementation of animal protection laws, and we are taking the unusual step of wading actively into a presidential campaign... One ticket has a clear, compelling record of support for animal protection, while the other has assembled a team of advisors and financial supporters tied in with trophy hunting, puppy mills, factory farming, horse slaughter, and other abusive industries.
Markarian was particularly critical of Trump's sons for being so proud about trophy hunting,
We've all seen the gruesome photographs of Trump's adult sons documenting their trophy kills, which include a leopard, Cape buffalo, waterbuck, and other exotic creatures. Donald Jr. even holds up the tail of an African elephant he's apparently shot. Both African elephants and leopards are listed as 'threatened' with extinction under the provisions of the U.S. Endangered Species Act. That means that the Trump sons use their fortunes and vacation time to travel the world amassing the heads and hides of the rarest and most majestic animals on earth—a pastime more on par with the type of killing done by Walter Palmer (the wealthy dentist who shot Cecil the lion) than it is with rank-and-file sportsmen or conservationists.
He also noted Trump Jr. is floated to be Interior Secretary, which he described as a "terrifying prospect."
Markarian also noted the Clintons have had pets throughout their adult lives, while it appears Trump never has.
If Trump is ultimately elected, he'd be the first president since Harry S. Truman without a pet in the White House.
Hillary Clinton currently has two dogs, Tally and Maisie.
The Clintons seem to have long felt the pull of animals, while the Trumps have not.
This has been a very strange election in a number of ways, but particularly in terms of endorsements.
Publications and organizations that often avoid explicitly supporting a particular candidate have gone out of their way to endorse Clinton.
On Wednesday, for example, Clinton was also endorsed by The Atlantic.
She's just the third presidential candidate to receive its endorsement in the 159 years it's existed -- Abraham Lincoln and Lyndon B. Johnson preceded her.
Trump, who is arguably one of the most controversial presidential candidates in US history, has clearly inspired many people to be unusually outspoken throughout this election, especially as we get closer to election day.