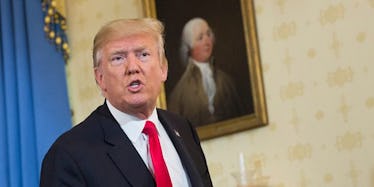 This Is How You Contact Your Congresspeople About Trump's Trans Military Ban
Pool/Getty Images
President Donald Trump officially banned transgender people from serving in the U.S. military on Wednesday, July 26. In the wake of such a major step back for equality, now's the time to start contacting representatives about Trump's military ban on trans people. Hopefully you've been contacting them since January, but if not, here's a refresher on how to make an impact.
Who are your representatives?
First thing's first, you'll need to find out exactly who represents you in Congress. A quick Google search should provide you with that info. You can also browse the Senate's searchable list of senators or use a database resource like whoismyrepresentative.com.
Pick up the phone.
Next, it's time to call the telephone numbers listed. According to former congressional staffers, calling is more effective, so don't waste your time with an email they'll likely delete anyway.
To make it easy, you can call the Capitol switchboard at (202) 224-3121 and they'll direct you to your representative.
What should you say?
Now's the time to voice your opinions. If someone answers, ask to speak to an aide who deals with the military. If you get a hold of an aide, tell them who you are and what part of the state you live in (they might ask for your zip code, too).
Be brief and tell them why you don't agree with Trump's trans military ban. State facts like there are more than 15,000 transgender people already serving — they're protecting this country. And if you have a relevant personal story, tell it.
If no one answers, leave a message and call back again the next day. Or, if you're totally against talking on the phone, you can use an app called Stance, which lets you record your message and send it directly to your representatives.
Keep calling.
The more you call, the greater the impact. Let your voice be heard a thousand times over.
In addition to contacting your congresspeople, consider donating to advocacy groups like the National Center for Transgender Equality, GLAAD, or any of the amazing organizations on this list.
Transgender soldiers deserve equality and respect. Period.