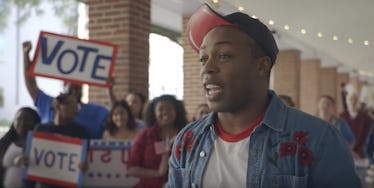 How YouTube Stars Are Totally Transforming Clinton's Campaign For Young Voters
YouTube
YouTube star Sam Tsui was in the audience when Hillary Clinton held a town hall with digital content creators.
He supports Clinton and told her campaign he would be happy to help if there was something he could do.
On Thursday, Tsui made good on that promise. He released a video he made with the Clinton campaign where he puts on a cafe show to convince one young woman, Christina, to vote for Clinton.
Christina had responded to Tsui's call to be an extra in a video he was planning to film in Columbus, Ohio, which is a swing state.
In her response, she'd said she was undecided about who she would vote for on November 8.
As she sat in the cafe audience, she had no idea she was actually going to be the star of the video.
Tsui's is the final of three videos from YouTube stars in partnership with the Clinton campaign and Portal A.
The other two are from Todrick Hall and GloZell Green, and were released over the last week.
Each video features a YouTube star surprising a fan in a swing state. Each time, the fan thinks he or she was just going to be an extra in a video.
Instead, the stars turn around and put on a stunt focused on convincing the fan to vote -- and specifically, to vote for Clinton.
Each of these stunts is related to the YouTube star's established persona. Sarah Galvez, an audience growth strategist on the Clinton campaign, told Elite Daily,
We did it in a very specific way for each creator.
This way, the videos are meant to feel authentic to the YouTuber's personality. So for Tsui, it was a cafe concert. For Hall, it was a big pop-up performance with a marching band.
And for GloZell, it was a giant swimming pool of cereal, reminiscent of her famous cereal bathtub video.
GloZell had interviewed Hillary last December and was excited to be more involved with the campaign.
This is a new form of campaign advertising that appeals directly to Millennials.
Rather than creating a typical ad and using YouTube to host the video, the Clinton campaign used the YouTube stars as direct vessels for the message.
They're using celebrities, but using them on the celebrity's own home turf.
In addition to having the YouTubers post the videos on their own accounts, the clips were also turned into 15 and 30 second versions for paid targeted advertising on YouTube.
The campaign is not paying for ad placement of the videos outside of YouTube, but given the social nature of Millennials, it's possible people will share them organically to spread the message without the campaign spending any money.
It's like a digital grassroots get-out-the-vote strategy.
The campaign believes the YouTube stars can both reach Millennials and embody the spirit of our generation.
Galvez said,
YouTube itself is a platform based on community -- and a community that is tolerant.
Jason Rosenbaum, director of digital advertising at the Clinton campaign, echoed that sentiment, saying,
Ideas of inclusiveness and rejection of divisiveness and intolerance is something these three really talented entertainers are defined by.
The videos stand in stark contrast to the campaign videos being put out by both the Clinton and Trump campaigns.
Those videos are dark -- both figuratively and literally. They attack the other candidate and include elements of fear.
During the World Series on Wednesday night, for instance, we saw an ad from the Clinton campaign hinting that Trump as president would start wars.
Meanwhile, the Trump campaign's newest ad portrays Clinton in dark tones, saying she will not move America forward.
The YouTube videos, on the other hand, are bright. They are light-hearted, fun and colorful. Even if you're not necessarily a Clinton supporter, the shock on the fans' faces can make you smile.
This was done on purpose in the final weeks of the campaign. Rosenbaum said,
We want to end it on a high note and do it in a way that motivates and inspires and doesn't rely on hate and divisiveness.
Rosenbaum added,
Listening to and watching three talented entertainers do something nice in the name of voting is just such a refreshing thing to watch.
He's certainly not wrong about that.
Elite Daily and 50 other media organizations partnered with Rock The Vote to register 100,000 women to vote. You can register right here (and men can use it too) :