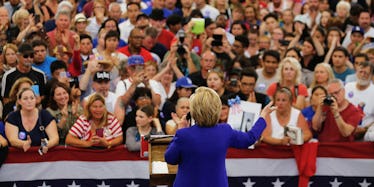 These Moms' Reactions To Clinton Clinching The Nomination Will Inspire You
REUTERS
When Hillary Clinton won the New York primary, my mother texted my sisters and me something that put the win in total perspective:
Can you imagine? I couldn't even apply to Columbia because I was a woman in 1976!
Clinton clinched the Democratic presidential nomination on Monday, according to the Associated Press delegate count. This was further confirmed by the results of the primaries in California and New Jersey on Tuesday.
Of course no one is suggesting people vote for Clinton purely because of her gender or that her accomplishments are only significant because she is a woman.
But regardless of your feelings about Clinton herself (or the superdelegate system), this is a truly historic moment. It is the first time a woman has clinched a presidential nomination for a major political party.
For some perspective, we asked women in generations above us -- our moms, aunts, grandmothers and friends -- how they feel about this news using an online questionnaire.
Of the 16 women we heard from, about half said they never thought they would see a woman confirmed as a presidential nominee for the Republican or Democratic party.
A few said they became hopeful about having a female nominee when they saw women running in the major parties. Michele, 58, said she began "thinking of the possibility" when Shirley Chisholm ran in 1972. Grace Row, 53 said she never thought of the possibility as a child, but:
I was in college when Mondale chose Geraldine Ferraro as his running mate, and I came to believe a woman just might become president in my lifetime.
Half of the respondents said they were held back in some way because of their gender, whether it was pay inequality, childcare barriers or dealing with sexism. My mother wrote she wasn't held back by anyone in particular, but:
Subconsciously when you don't see anyone who looks like you leading an organization or a department, you just can't imagine that you can be that person, so you hold yourself back.
We asked how they felt about seeing a woman become a presidential nominee, and the answers were split.
Four women wrote while they are happy to see a woman reaching this level of success, they wish it weren't Clinton. Eileen Marelic, 53, wrote:
Totally awesome. Wish it wasn't Hillary Clinton though. I can't trust that she is honest.
Three women wrote that it doesn't matter much to them -- they're more interested in a person's politics than their gender.
For Row, it's a hard-won milestone for women. She wrote:
Only by sheer will and endurance, unmatched qualifications, and peerless intelligence has Hilary gotten this far. Men with a tenth of her abilities have been elected to the highest office, barely breaking a sweat. The message is that women need to be hyper-qualified and incredibly tolerant of our social atmosphere to succeed.
Two women expressed unequivocal excitement about the Clinton news. Ellen Milholland, 61, said it was "Unbelievable! Fantastic!" Graciela, 60, said she felt "proud" and that Clinton "is a good role model for all the young rising female leaders!"
And then I began to sense a certain trend in reactions.
Suzanne (full disclosure, she's my aunt) wrote:
It is a great feeling and it's about time.
Maryalice Migel wrote:
Just surprised this has not happened sooner
Michele wrote:
It's about time we have a strong female candidate who is capable of being elected. Many other countries have female leaders, so why shouldn't we?
Rosemary Volpe wrote:
It's about time.
From what I gather, some women have been waiting a long time to see this happen.
But while we're able to witness this milestone, there were so many women who came before us who were not. A woman who responded anonymously said:
I still do not believe it. I will even be happier to see her win. I wish my mother were alive to see it.
For my mother, who immigrated to America with her family on the promise of the American dream, this is a pretty amazing moment. She said:
I am extremely proud and in my heart of hearts I know that women (even those who oppose her) are proud too. The idea that I could see both the first African-American and the first woman US president is amazing. I really can't believe it, and I'm purposefully not believing it until she's really the nominee.