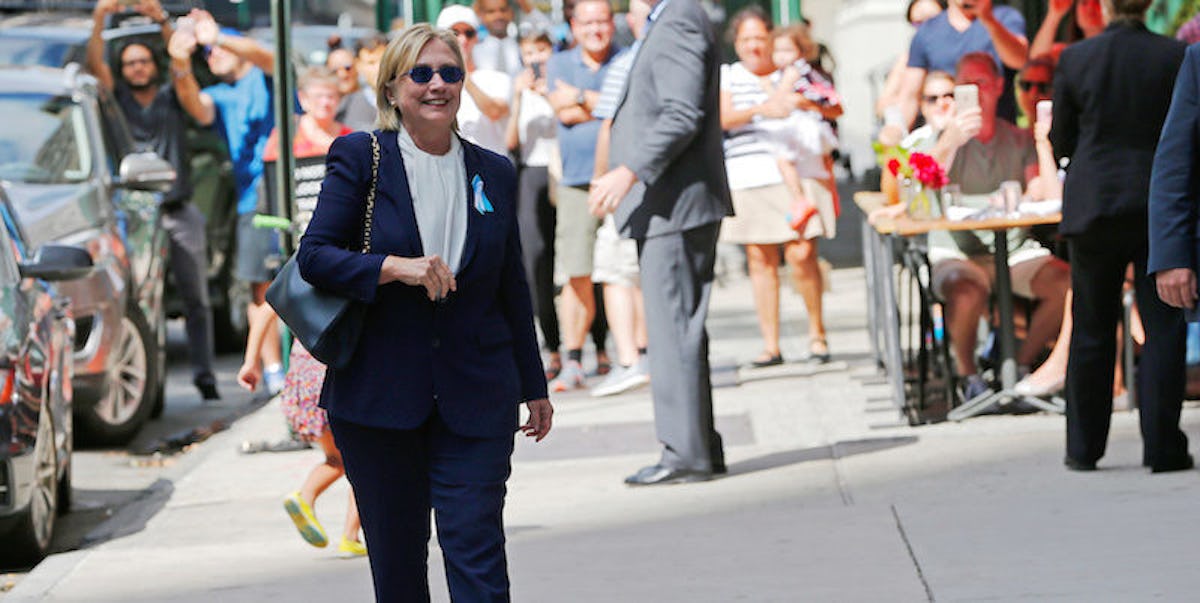 This Is What Would Actually Happen If Hillary Clinton Backed Out Of The Race
REUTERS
Some people have begun to wonder what would happen if Hillary Clinton dropped out of the race for medical reasons.
There has been a great deal of discussion about Democratic presidential nominee Hillary Clinton's health over the past couple of days after she fell ill at a 9/11 memorial and had to leave.
A video of the incident showed the former secretary of state's knees buckling as aides lifted her into a van.
There was immediate speculation over what could be wrong with her. Initially, the Clinton campaign said she got "overheated," but her doctor ultimately revealed she has pneumonia.
While this isn't a life-threatening illness, all of this has fueled conversation about what would happen if Hillary Clinton needed to drop out of the race due to poor health.
This seems highly unlikely, and Clinton is set to return to the campaign trail on Thursday.
But, if it did actually occur, here's what would happen:
The US Constitution doesn't delve into what should happen if a candidate has to drop out of a political race, and rules for this situation are different depending on the political party.
For the Democratic Party, the rules state the party chairperson must call a special meeting to fill a vacancy on a national ticket, according to the Party's Rules and Bylaws Article 3, section 1, TIME reports.
The decision for who would fill the vacancy would be based on a majority vote from those in attendance at the meeting.
As TIME highlights, this happened once during the 1972 presidential election when Democratic nominee George McGovern discovered his running mate, Thomas Eagleton, struggled with depression and had been hospitalized because of it.
McGovern was worried this might hurt his chances in the general election, so the Democratic Party replaced Eagleton with a former ambassador, Sargent Shriver, who also happens to be the founder of the Peace Corps.
If any of this actually happened with Hillary Clinton, it's not clear who her replacement would be, but Vice President Joe Biden and Senator Bernie Sanders are considered to be top prospects.
There are also state laws to consider in regard to all this, which are different from state-to-state and could really complicate things for a party if it decided to replace one of its nominees. For some states, the deadline to submit a name for president and vice presidential nominee has already passed.
This is unprecedented territory; no major party has ever replaced a presidential candidate after they've been nominated.
With that said, as noted above, it seems very improbable any of this would occur.
Citations: FOX News