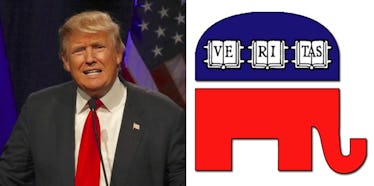 Harvard GOP Club Rejects Rep. Nominee For The First Time In 128 Years
Shutterstock/Twitter
Donald Trump is the first GOP nominee to say and do A LOT of things.
But perhaps his biggest accomplishment (or failure, rather) stems from the prestigious Harvard Republican Club refusing to endorse or support him.
This is the first time in 128 years that the club has NOT supported a Republican presidential nominee.
Great job, Donny. You must really be breaking the mold here.
The Harvard Republican Club, which is "the oldest College Republicans chapter in the nation," released a statement of its denunciation of The Donald, saying,
Donald Trump holds views that are antithetical to our values not only as Republicans, but as Americans.
Indeed. The letter also stated,
The rhetoric he espouses – from racist slander to misogynistic taunts – is not consistent with our conservative principles, and his repeated mocking of the disabled and belittling of the sacrifices made by prisoners of war, Gold Star families, and Purple Heart recipients is not only bad politics, but absurdly cruel.
In just a single sentence, the club was able to address not one, not two, but three times Donald Trump made offensive remarks about some of the people that already made America great, including The Khan Family and prisoner of war Sen. John McCain.
Donald Trump is a threat to the survival of the Republic. His authoritarian tendencies and flirtations with fascism are unparalleled in the history of our democracy. He hopes to divide us by race, by class, and by religion, instilling enough fear and anxiety to propel himself to the White House. He is looking to to pit neighbor against neighbor, friend against friend, American against American. We will not stand for this vitriolic rhetoric that is poisoning our country and our children.
Well, damn. This statement might have just revitalized the entire Republican party.
In addition to the scathing letter published on Medium by the Harvard Republican Club, The Harvard Crimson published an article regarding the statement, revealing,
The Republican Club polled its members earlier this week and found that 10 percent of Harvard Republicans intend to support Trump for president, while an "overwhelming majority"— 80 percent of polled club members — indicated they would not support the party nominee and 10 percent remained undecided.
It's safe to say the vast majority of Harvard students want NOTHING to do with Donald Trump.
Citations: Harvard GOP Club Won't Endorse Trump, Marks First Time Not Supporting GOP Nominee in 128 Years (Complex)