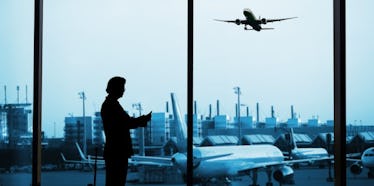 Guy Blocked From Entering US For Having Gay Dating App And Nude Pics On Phone
Shutterstock
A Canadian man was recently denied entry to the US after a US Customs and Border Patrol agent took his phone and viewed his profiles on the gay hookup app Scruff and the website BBRT, which is for men seeking other men, The Huffington Post reports.
André, a 30-year-old from Vancouver who wouldn't provide his last name for fear of reprisal from US Customs and Border Patrol, was traveling to New Orleans in October to visit his boyfriend when this occurred.
As he was going through customs preclearance at Vancouver International Airport, André said a border agent took his phone and computer and demanded his passwords.
He told the Daily Xtra,
I didn't know what to do. I was scared, so I gave them the password and then I sat there for at least an hour or two. I missed my flight. He came back and just started grilling me. 'Is this your email?' and it was an email attached to a Craigslist account for sex ads. I could tell just by [the officer's] nature that he had no intentions of letting me through. They were just going to keep asking me questions looking for something.
The border agent was apparently suspicious André was an escort looking for sex work.
When he went on another trip a month later, André discovered US Customs and Border Patrol had saved his passwords. André had wiped the phone of apps and other material in order to avoid suspicion, but it had the opposite impact.
He said,
I had nude photos of myself on my phone, and they were questioning who this person was. It was really humiliating and embarrassing. They said, 'Next time you come through, don't have a cleared phone,' and that was it. I wasn't let through. He said I'm a suspected escort. You can't really argue with them because you're trapped.
André was denied entry to the US for a second time.
He said he lost approximately $1,200 on the nonrefundable cancelled trips.
US Customs and Border Patrol has long seen the border as providing a loophole in Fourth Amendment protections, and this isn't the first time border agents have pressured someone into turning over and unlocking their devices while traveling to the US.
Homeland Security Secretary John Kelly recently told Congress the agency is considering requiring visitors to the US to turn over their social media passwords or be denied entry.
Civil liberties groups decried this proposal.
Esha Bhandari, staff attorney for the speech privacy and technology project at the ACLU, told Daily Xtra,
Our mobile devices contain every detail of our lives. Financial information, health information, personal relationship information. If you're a doctor or a lawyer, you might have attorney-client or doctor-patient privileged material on there. Some people that travel for business have very sensitive business information, trade secret information.
Long story short: Allowing border agents to look at your devices doesn't just expose you, it exposes people you're connected to.
There are actions you can take to make it harder for border agents to invade your privacy, including simple things like encrypting your hard drive and locking your phone.
But, it seems clear the US is poised to be a decidedly more unwelcoming place with Donald Trump as president, especially with John Kelly, who's a well-known border hawk, heading the Department of Homeland Security.
Citations: Canadian Blocked By US Customs After Reading His Profile On Gay Hookup App (The Huffington Post), US Customs block Canadian man after reading his Scruff profile (Daily Xtra)