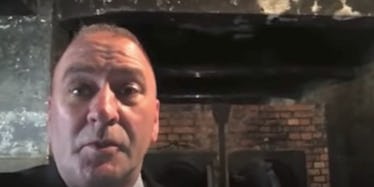 GOP Rep. Idiotically Films Himself In Auschwitz Gas Chamber And Twitter's Pissed
YouTube
There are certain things most people would agree are universally unacceptable, and filming or photographing yourself in Auschwitz definitely qualifies.
But Republican Congressman Clay Higgins of Louisiana apparently didn't get the memo.
On a recent visit to Auschwitz, the concentration camp where Nazis murdered approximately 1.1 million people (including 960,000 Jews), Higgins decided to film a five-minute selfie video.
What's even more unacceptable is that he filmed several minutes of the video in the former gas chambers, where Zyklon B gas was used as a tool for murder, New York Magazine reports.
In the video, Higgins said, "It's hard to walk away from gas chambers and ovens without a very sober feeling of commitment — unwavering commitment — to make damn sure that the United States of America is protected from the evils of the world."
Higgins' video was promptly condemned on social media by officials at the Auschwitz Memorial.
The officials pointed out the fact there's a sign that asks visitors to "maintain silence" as a show of respect for the memory of those who were murdered at Auschwitz.
It seems Higgins failed to read the fine print.
Others on Twitter joined in to express their disgust at what Higgins did.
The Anne Frank Center described Higgins' actions as "DISGUSTING" and a "global disgrace," and went on to suggest the congressman pursue "sensitivity training."
This is not the first time Higgins has generated controversy.
After a terror attack in London in early June, Higgins claimed "all of Christendom... is at war with Islamic horror," in a Facebook post.
He went on to say every "radicalized Islamic suspect" should be hunted down, identified, and killed.
Higgins concluded with, "Kill them all."
Shortly thereafter, people began calling on Higgins to resign.
Long story short, many people clearly don't like it when politicians use tragedies to promote political agendas, especially when they're divisive and blatantly Islamophobic.
With that said, Higgins certainly isn't the only one who's guilty of this.
Looking at you, President Donald Trump.