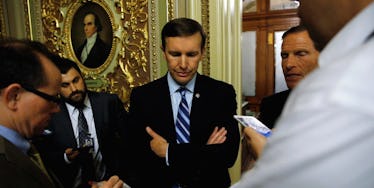 This 'GOT' Character Became A Huge Part Of The Gun Control Filibuster
REUTERS
In the wake of the devastating massacre at a gay nightclub in Orlando, Senate Democrats held a nearly 15-hour filibuster that lasted through the day on Wednesday and into the early hours of Thursday.
Senator Chris Murphy of Connecticut spearheaded this effort, which involved approximately 14 hours and 50 minutes of non-stop speeches on gun violence in America.
I've had enough. I've had enough of the ongoing slaughter of innocents, and I've had enough of inaction in this body.
As a result of their efforts, Republican party leaders agreed to vote on two proposed gun control measures. One would prevent individuals on the terror watch list from obtaining gun licenses, and the other would expand background checks to gun shows and Internet sales.
It was an emotional night, with many references to heartbreaking and horrific mass shootings that occurred across the United States.
Senator Murphy ended the filibuster with a poignant reference to 6-year-old Dylan Hockley and a teacher's aide, Anne Marie Murphy, two victims of the Sandy Hook Elementary School shooting in his home state. Anne Marie Murphy died shielding the young boy from bullets. Senator Murphy stated,
It doesn't take courage to stand here on the floor of the United States Senate for two hours or six hours or 14 hours. It takes courage to look into the eye of a shooter and instead of running, wrapping your arms around a 6-year-old boy and accepting death. ...If Anne Marie Murphy could do that, then ask yourself: What can you do to make sure that Orlando or Sandy Hook never, ever happens again?
When it comes to politics in today's world, one of the most interesting aspects is witnessing how it all plays out on social media.
A lot of people were evidently supportive of the filibuster, and it wasn't long before #filibuster was trending on Twitter.
At some point, this evolved into a reference to the "Game of Thrones" character Hodor.
We warn you, if you're not up to date on the show, this post is dark and full of spoilers. Stop reading now if you don't want to know more, you've been warned.
The indefatigable efforts of Senate Democrats to bring attention to gun violence and spark action inspired the trend #HoldTheFloor (the senate floor), which is a reference to Hodor's name and fatally courageous fight to "hold the door" to save the life of Bran Stark.
Indeed, "Game of Thrones" just entered America's never-ending debate over gun control.