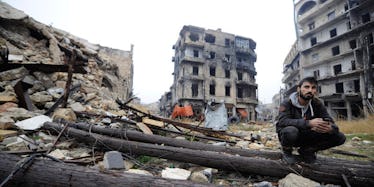 People In Aleppo Are Tweeting Their 'Final Messages' And They're Heartbreaking
REUTERS
As forces loyal to Syrian President Bashar al-Assad close in, people in east Aleppo are tweeting their final, heartbreaking messages.
Aleppo has been absolutely decimated by relentless bombings carried out by the Syrian regime and Russia.
Now, pro-government forces are on the verge of defeating the last remaining rebels in the city — and civilians are not being spared in the process.
At least 82 civilians were killed by pro-government forces and their allies on Monday, December 12, including 11 women and 13 children, according to the United Nations.
Pro-government forces are reportedly killing civilians "on the spot," both in their homes and on the street, as they attempt to flee the carnage.
The reports coming out of Aleppo are terrifying and gut-wrenching.
Zeid Ra'ad Al Hussein, UN high commissioner for human rights, urged the international community to step in to stop the slaughter and warned what's happening in Aleppo could be repeated in other Syrian cities,
The crushing of Aleppo, the immeasurably terrifying toll on its people, the bloodshed, the wanton slaughter of men, women and children, the destruction — and we are nowhere near the end of this cruel conflict. What can happen next, if the international community continues to collectively wring its hands, can be much more dangerous. What is happening with Aleppo could repeat itself in Douma, in Raqqa, in Idleb. We cannot let this continue.
The events in Aleppo are being described as a "complete meltdown of humanity" by UN humanitarian spokesman Jens Laerke.
The world has completely failed Aleppo, and we're watching it play out on social media.
People in Aleppo are offering their final, painful goodbyes on Twitter.
They're asking the world to think of Aleppo's children.
The account of 7-year-old Bana Alabed, which is run by her mother, Fatemah, and has captured the hearts of people worldwide, also sent out a "final message."
It is long past time for the world to stand up for Aleppo and say enough is enough.
Ignoring the atrocities that are currently being committed is inexcusable.
Citations: United Nations