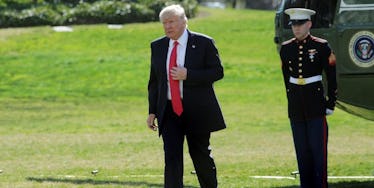 Father Of SEAL Killed In Trump's Yemen Raid: 'Don't Hide Behind My Son's Death'
REUTERS
Bill Owens, the father of the Navy SEAL killed in a disastrous raid in Yemen on January 28 -- is speaking out, and he's furious with President Trump and his administration.
Owens, who is a veteran, told the Miami Herald he refused to meet with Trump when he and Ivanka went to Dover Air Force Base in Delaware to pay respects to his son, Chief Special Warfare Operator William "Ryan" Owens.
He said,
I told them I didn't want to make a scene about it, but my conscience wouldn't let me talk to him.
Since the raid, which resulted in the death of Owens and a number of civilians, including an 8-year-old American girl, the Trump administration has attempted to paint it as a success, and said those who question this narrative insult the memory of Owens.
But his father isn't having it, and made his feelings on this version of events quite clear. He said,
Don't hide behind my son's death to prevent an investigation. I want an investigation... The government owes my son an investigation.
Owens is concerned about how the raid was conducted, and is calling for an investigation. He told the Herald,
Why at this time did there have to be this stupid mission when it wasn't even barely a week into his administration? Why? For two years prior, there were no boots on the ground in Yemen — everything was missiles and drones — because there was not a target worth one American life. Now, all of a sudden we had to make this grand display?
He's especially upset the raid was carried out one day after Trump's controversial travel ban was put in place, which impacted seven predominately Muslim countries, including Yemen.
He said,
It just doesn't make any sense to do something to antagonize an ally when you're going to conduct a mission in that country. Did we alienate some of the people working with them, translators or support people? Maybe they decided to release information to jeopardize the mission.
This is a fair question.
The raid was supposed to be simple: They would go in quickly and grab cellphones, laptops and other information about terrorists.
It ended up being an hour-long firefight, and, as one official put it, "Almost everything went wrong."
According to The Washington Post, it's routine for the military to investigate raids or operations that result in the death of US service members, but added,
[Bill Owens] appears to be calling for a formal inquiry into the decision-making process for the raid, which probably means it would fall on Congress to open an investigation.
On Sunday, Deputy White House Press Secretary Sarah Huckabee Sanders appeared on ABC News's "This Week," where she was asked to respond to Bill Owens's request for an investigation into his son's death.
She said,
I haven't had the chance to speak with [President Trump] directly about that, but I would imagine that he would be supportive of that.
Whether or not this is true remains to be seen, but it's fair to say there are still many questions to be asked and answered about the raid.
Citations: Slain SEAL's dad wants answers: 'Don't hide behind my son's death' (Miami Herald)