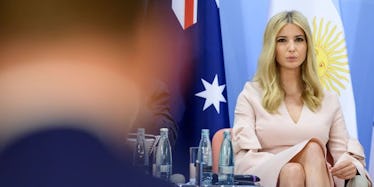 Everyone Wants To See Ivanka's Reaction To Trump's Trans People In The Military Ban
On Wednesday, July 26, Donald Trump announced via Twitter that he'd be banning "transgender individuals" from serving in "any capacity in the U.S. military." Noticeably quiet after this announcement is President Trump's daughter, Ivanka Trump. Naturally, people are waiting for Ivanka Trump's reaction to Trump's trans people in the military ban.
As of Wednesday morning, Trump has not yet commented on her father's decision, and the tweets are rolling in. Elite Daily reached out to the White House for comment from Ivanka Trump, but did not hear back at time of publication.
"You need to talk to your dad NOW..."
Just last month, Trump tweeted about her support for the LGBTQ+ community, so silence after her father's shocking announcement is deafening.
During his campaign in 2016, Donald Trump ran claiming to be an advocate for the LGBTQ+ community and even criticized Hillary Clinton, saying she cared more about Islamic extremists than she did about LGBTQ+ community.
And after the mass shooting in Orlando, Florida, in 2016, Donald Trump gave a speech where he said he'd protect marginalized groups saying,
I refuse to allow America to become a place where gay people, Christian people, Jewish people are targets of persecution and intimation by radical Islamic preachers of hate and violence.
Similarly to his daughter, Donald Trump also tweeted his support of the LGBTQ+ community in 2016.
"Thank you to the LGBT community! I will fight for you while Hillary brings in more people that will threaten your freedoms and beliefs," he tweeted. Donald Trump's words in 2016 as a candidate are a far cry from his actions as President of the United States in 2017.
Trump's announcement of banning transgender members of the military comes just a year after President Obama's Secretary of Defense, Ashton Carter, announced that members of the trans community could openly serve the in the U.S. military. Carter also said medical care would be provided to those transitioning during their service.