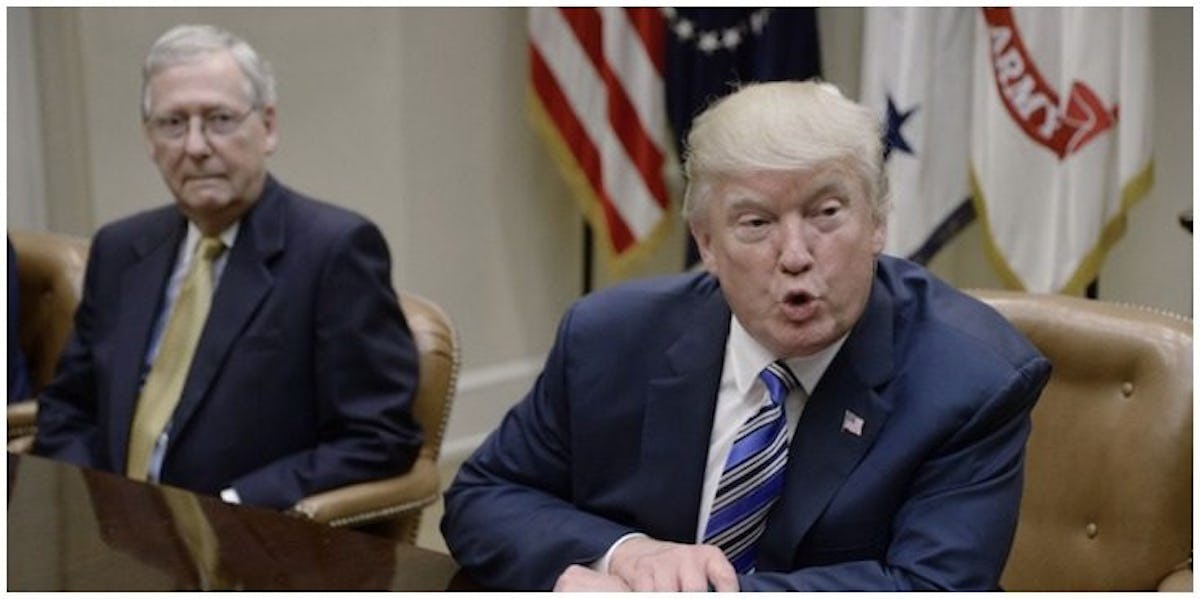 Even Mitch McConnell Might Be Turning Against Donald Trump, Report Says
Olivier Douliery - Pool/Getty Images
The gaffes, the threats, the aggression, the blaming. The implicit support of white supremacists. The failed health care vote. And now: reports are surfacing that President Donald Trump and Mitch McConnell might be feuding. Trump's summer is, by all accounts, going terribly, and it could get worse. McConnell, the Senate Majority Leader, is an important ally to the Trump administration, and losing his support could spell bad news for the already troubled administration.
UPDATE: Senate Majority Leader Mitch McConnell pushed back on a report from The New York Times that he and President Donald Trump are feuding, according to The Hill.
In a statement released on Aug. 23, McConnell said, "We have a lot of work ahead of us, and we are committed to advancing our shared agenda together and anyone who suggests otherwise is clearly not part of the conversation." He added, "[T]he president and I, and our teams, have been and continue to be in regular contact about our shared goals."
EARLIER: The New York Times reports that McConnell and Trump are "locked in a political cold war" and it doesn't seem like things will get any better. McConnell has reportedly even questioned Trump's ability to achieve anything, legislatively speaking.
The coalition between the quiet conservative senator and the bombastic, unpredictable head of state was never exactly on solid ground.
Nevertheless, they've worked together to push a conservative agenda: chiefly, dismantling the Affordable Care Act (ACA) and overhauling the tax code. But one has failed, and the other is still up in the air.
Between Trump's unpredictability, his random feuds with GOP Senators like Arizona's John McCain and Jeff Flake, and his willingness to publicly throw McConnell under the bus for the failed health care vote, their private relationship has reportedly soured. In fact, the same New York Times report alleges that a recent phone call between the two devolved from pointed remarks to shouted profanities.
The Aug. 9 phone call, which Trump made from his Bedminster, NJ golf resort, came after McConnell talked about Trump's inexperience during an Aug. 8 speech. "Our new president, of course, has not been in this line of work before. I think he had excessive expectations about how quickly things happen in the democratic process," McConnell said, per CNN.
Sources familiar with the phone call say that Trump "berated" McConnell and insisted that he continue to try to repeal the ACA.
Trump then tweeted about the incident, initially defending himself against McConnell's (admittedly mild) comments and criticizing the senator.
But Trump may be setting himself up for more legislative embarrassments in escalating this supposed feud.
McConnell is known for deal-making and fundraising, and Trump should look to the lifelong politician as an ally, someone to help the political amateur pass legislation. But then -- Trump wouldn't be Trump.
McConnell is not the only Republican senator to question the ability of the president to get anything done. The Times reported that former Senator Judd Greg of New Hampshire says that Republican senators have just about had it with Trump and that both chambers of Congress are prepared to "govern on their own" if Trump "can't participate constructively."
About 20 of the 52 GOP senators are ranked "negative," according to a Washington Post visual that tracks how GOP senators talk about Trump in public. McConnell leans positive, but if reports are true and the relationship is worsening, this could change. And without this key ally -- who is usually known for his ability to reign in GOP senators and get their votes on key policy decisions -- that could mean any hope the White House may have of a legislative coalition could go out the door.
That said, even the GOP senators most critical of Trump vote with him the overwhelming majority of the time according to FiveThirtyEight. So, despite reports that they're fighting privately, perhaps McConnell and Trump will make it work.
You know, for the kids.