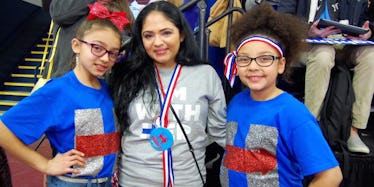 If The Election Were Up To Kids, Hillary Clinton Would Win In A Landslide
Fifth-grade teacher Erin Green would have gotten fired if she taught her students about one major story from this year's presidential election.
Her students were asking about a video all the adults were talking about. The video was from "Access Hollywood." It showed Republican nominee Donald Trump saying something that made a lot of people very upset. Green had to tell them,
I would lose my job if I told you what he said.
This has been a particularly difficult election for teachers and parents of young students. Trump has introduced a lot of age-inappropriate language and topics, from the "Access Hollywood" audio to discussing his size on the debate stage.
It's also been a particularly vicious election with personal attacks and bullying, making it a challenge for teachers and parents.
Green teaches at a charter school in Austin, Texas, that has a lot of minority students and students from low-income families.
In a mock election run by Newsela over the past two weeks, 5.7 percent of her students voted for Trump.
The other 94.3 percent of her students voted for Hillary Clinton.
Across the country, students overwhelmingly voted for Clinton.
Some 16,000 schools in all 50 states, representing over 380,000 students, voted in the Newsela mock election.
Fifty-seven percent of students across the country voted for Clinton, giving her the win. Just 32 percent of students voted for Trump. The rest of the results were split between Gary Johnson and Jill Stein.
In electoral college standards, that adds up to 415 votes for Clinton, well above the needed 270 to win the election in reality.
The younger the student, the more likely they were to vote for Clinton.
Clinton received nearly two-thirds of the vote among elementary school students but just under 50 percent among high school students.
We're looking for candidates that display kindness and people you want to look up to.
Kim Angell in Lafayette, California, sees her two young daughters viewing the election with an emphasis on seeking the "kindness" in candidates.
When she was young, there weren't many conversations about bullying, but she's seen it become a major topic in her daughters' schools. Because of this, she said,
To see adults demeaning one another and cutting them off, that's a big conversation in our house.
Like Green, Angell does not want to teach her daughters about some specific stories that have come up in this election. In fact, she said she and her husband recorded the last debate to watch it without their daughters in the room over worries it would be age-inappropriate.
She has been trying to tell her daughters, who read articles on Newsela, that "this election is really unusual because there's so much hate."
When they ask Angell why people are shocked about something Trump said, she tells them,
We're looking for candidates that display kindness and people you want to look up to.
While she has heard that some young students are anxious about the election, she doesn't see that in her daughters. This is because, she said, "[They] have a lot of confidence and optimism that this is going to work out."
Not to mention, "We're not a minority."
The Newsela election results were drastically split by ethnicity and geography.
More than 75 percent of black or Hispanic students voted for Clinton. Only about a third of white students voted for Clinton.
About two-thirds of students in "urban" schools preferred Clinton. About one-third of students in "rural" schools preferred Clinton.
Green said that she has seen the so-called "Trump Effect" among her students in Austin. This phenomenon features an increase in bullying of students based on race and religion. It also features an increase of fear and anxiety among students of color.
Green said,
When they heard Trump's words last year about deporting immigrants or building a wall, we had kids in tears.
While she doesn't directly teach the election, it comes up in their discussions about history.
Last year, for instance, she taught how the Holocaust was created from a "pyramid of hate" where little discriminatory acts built up. During the primary, her students pointed out that Trump's language fit into that pyramid.
They're very troubled by the things Donald Trump has said.
Green said she has "no idea" how she will handle the class if Trump wins the real election. The "scariest" thing for her is that his stances, such as strong immigration policies and a wall on the Mexican border, will become a reality and affect her students.
But just because students don't like Trump doesn't mean they're particularly keen on Clinton.
This is especially true among the high school crowd.
Eileen Kim, a high school history and government teacher at a charter school in San Jose, California, said she's noticed this among her students:
They're very very vocal about their feelings towards him — and Hillary. They do not like her, at all.
Her students loved Bernie Sanders during the primaries, especially because of his platforms on college tuition. She also believes they preferred him because he was more "anti-establishment" and against the status quo.
Kim's students have an "underlying feeling" that Clinton is a liar. They feel, she said,
She can't be trusted. But neither can Trump.
Still, she predicted a majority of her students would vote for Clinton over Trump, just not as enthusiastically.
Overall, Kim said, they enjoyed going through the mock voting process.
For someone who normally doesn't have a voice and isn't taken seriously by adults, when you give them the opportunity to voice their opinion and ask what they think...they pounce on that.
The adult election is happening on November 8.
Elite Daily and 50 other media organizations partnered with Rock The Vote to register 100,000 women to vote. You can register right here (and men can use it too) :