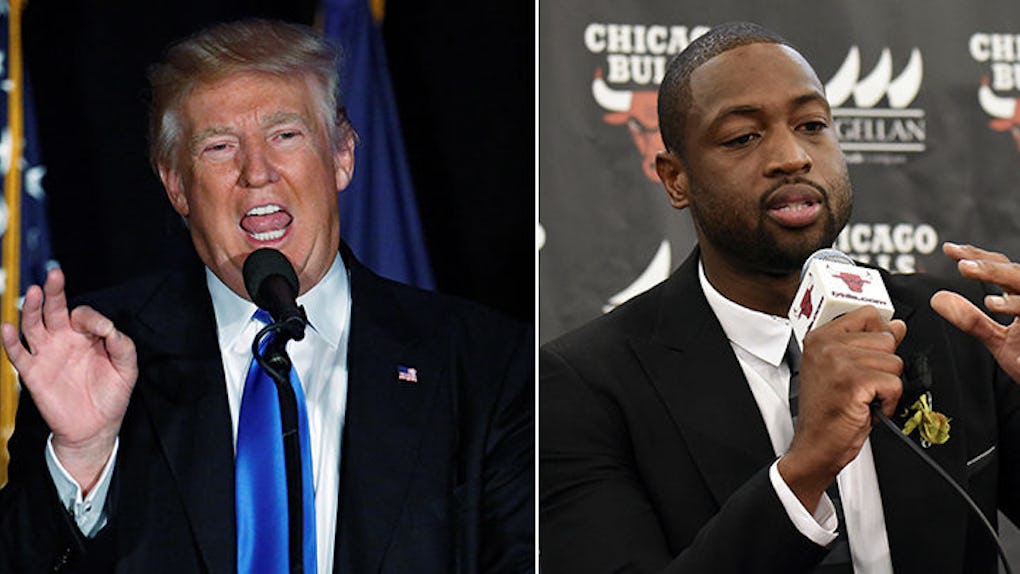 REUTERS/USA Today Sports
Trump Thinks Death Of Dwyane Wade's Cousin Is Somehow Related To Black Votes
While reacting to the death of Dwyane Wade's cousin, Donald Trump proclaimed "African-Americans will vote Trump."
Trump's reaction came a day after the NBA star's family member, Nykea Aldridge, got caught within the crossfire of several shooters, causing her death 45 minutes later, according to CNN.
Trump's now-deleted tweet -- and, in particular, the words "just what I have been saying" -- appears to be a clear allusion to his recent string of vocal appeals to black voters. (The tweet has since been re-posted with the correct spelling of Dwyane Wade's name.)
During his speeches, Trump emphasized the fact that cities like Chicago, which, according to the Chicago Tribune, has already seen over 450 murders in 2016, have been under the control of the Democratic Party for years.
Trump words, however, did not pass without others taking exception, namely MTV News' Jamil Smith.
On Friday night, Wade took to Twitter to confirm the death of his cousin, who had been struck while walking outside with a stroller on Chicago's South Side, according to CNN.
Wade lamented the loss of a mother that occurred "for no reason."
Wade, who signed this summer with the Chicago Bulls and was raised in the Windy City, has been one of the most notable athletes who have spoken up about gun violence in America.
In July, he stood alongside three other star players at the ESPYs and did just that.
His mother, Jolinda Wade, spoke to CNN affiliate WLS about the shooting.
She said,
She [Aldridge] wasn't bothering nobody. She was just going to register her kids at school.
Aldridge was 32.
Citations: NBA superstar Dwyane Wade's cousin killed in Chicago crossfire (CNN), Chicago homicides (Chicago Tribune)