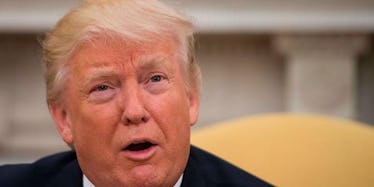 People Are Freaking Out Over These Photos Of Donald Trump In The White House
Getty Images
White House officials are furious after getting "tricked" into allowing Russia to publicize photos from the Oval Office.
After two top Russian diplomats met with President Donald Trump, photos of the meeting were circulated by Russian news agency TASS.
This was despite the fact the White House intended to not allow photographers from media companies into the Oval Office for that meeting.
CNN reported that an "angry" White House official said,
They tricked us. That's the problem with the Russians -- they lie.
On Wednesday, the Russian Ministry of Foreign Affairs posted a photo of Trump shaking hands with Russian diplomat Sergey Lavrov.
The meeting occurred a day after President Trump fired FBI Director James Comey, who was heading a counterintelligence investigation into possible ties between the Trump presidential campaign and Russia.
The meeting had been scheduled before the firing and took place at the request of Russian President Vladimir Putin, according to Politico.
American media photographers were prohibited from the Oval Office for the meeting. Only a White House photographer and Russia photographers were allowed at the time, CNN reports.
The confusion, it appears, came in the White House's understanding of the Russian photographers' specific role. The Washington Post quoted an administration official as saying,
We were not informed by the Russians that their official photographer was dual-hatted and would be releasing the photographs on the state news agency.
In addition to photos of the Oval Office meeting, the Russian MFA also flaunted video footage of the awkward exchange that saw Lavrov go out of his way to troll reporters asking about the firing of Comey.
Furthermore, the Washington Post's reporting cites "former intelligence officials" who regarded the access granted to Russian photographers as a potential security risk, particularly because of the prospect the Russians could have used a "sophisticated" listening device.
Former CIA deputy director David Cohen tweeted that it was not a good idea to allow such access.
However, an administration official told the Washington Post that White House rooms are "swept routinely" for listening devices.
As for the publicized photos, it appears Russia simply pulled off a bit of a fast one.
Citations: White House furious after being trolled with Russia Oval Office photos (CNN)