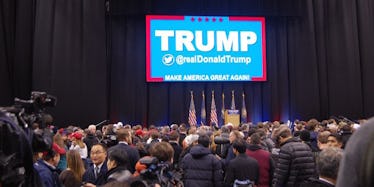 I Asked Trump Rally-Goers Why They Like Him And Had No Idea Who Was Lying
I have a confession to make: I was losing my mind at the Donald Trump rally in Manchester, New Hampshire on Monday night.
This wasn't because I'm not exactly Trump's biggest fan. It was because I was ultra-paranoid thinking every other person I interviewed was trolling me.
It's become a trend at some rallies for young people who don't actually support that candidate talk to reporters as if they are fans, saying generic or over-the-top things in fake support. Basically, reporters are getting trolled.
This is different from the overt interruptions people are performing on the campaign trail, like the guys dressed up as robots following Marco Rubio around or the protestors who regularly show up at Trump events. This is covert, discreet trolling.
I heard rumors this was happening back at a Ted Cruz rally in Iowa. Apparently, some young women told one reporter they didn't like Cruz and then turned around and started singing Cruz's praises to a different reporter.
Before the Trump rally ended on Monday night, I heard it was happening again, thanks to Versha Sharma on Twitter:
So, when I started asking young people at the rally why they like Trump, I was on guard trying to figure out who was actually a Trump fan.
To be clear, I am genuinely interested in what young people like about Trump and why they find him a viable presidential candidate.
Trump obviously has a lot of support in New Hampshire -- he won the Republican primary vote there -- but, to some extent, I'm not entirely sure who was telling me the truth and who was feeding Trump's lines right back at me.
Here's what I was told:
Kyle, 18, said he came from Massachusetts, where you "can't really see [Trump] like this" because it's a more liberal state.
He's a businessman. America's his business, and that's why we love Donald Trump... I like that he wants to make America great again.
Steven, 19, and Michael, 18, were from Manchester.
He's not bought and paid for. He's not like a politician like the rest of them -- or most of them -- that are in there. You know what I mean? Nobody can buy and pay for him. He's not doing this for a career or for money. He's doing this 'cause he sees the crisis that's going on in the country. - Steven Everything. Especially his hair. I love it. Nah, but I like everything all about him; he's a great dude all around. He's gonna just kill it. He's gonna be the best president. - Michael
Abbey, 22, said she was from New Hampshire and ready to go vote.
I like that he's a strong candidate. He's not a politician; he tells the truth. He's saying what everyone's thinking but he's not afraid to say it, which is nice.
Meme and Andrew were accompanied by a friend who said she wasn't a fan. But Meme and Andrew said they like Trump.
I like how eccentric he is and I like how conservative his views are. - Meme Huge fan, definitely voting for him, all that good stuff. - Andrew
Kenny and Charlotte were with a group of friends, all 14 and 15 years old, from New Hampshire.
I like that he doesn't have any special interests behind him, so that he can really listen to the people and do what he feels and we feel is best for the country. - Kenny I like how he's honest and outgoing and he really knows what he wants to do. He's really confident about it and stuff like that. - Charlotte
Brendan, Eric, Noah and Bryce, all 16, came to the rally together and spoke in a rush.
I like that he's gonna build a wall. He just says whatever he wants. I like how he says what other candidates wouldn't say. He's funding his own campaign, which also plays a part.
David Morton, 18, is 100 percent for sure a Trump fan -- he's the state director for MASS Students for Trump, organizing Massachusetts students. He was there with Curtis, 18.
I like that he's upfront, he says it like it is. He's not afraid to say what he thinks. He's not afraid of what people think of him if he says it. The big thing, too, is he's self-funding his campaign, which I'm sure you hear all the time, but it's really important because a lot of people don't realize these other politicians who are getting funding from big businesses and corporations and banks and pharmaceutical companies -- they're not just handing out money for free. They want something in return. If Mr. Trump isn't taking money from them, he owes no one. He only owes it to the American people. The only responsibility he has is to us -- not to anyone else. - David He's not bought and paid for. It's refreshing to hear he's not a politician and he hasn't been in Washington his whole career. It's refreshing to hear he's coming from the American people, he speaks with the American interests in mind. Also, with regards to illegal immigration, all of my grandparents came here from Canada, and they had to do it the right way -- they had to do it legally. They had to do it. Nothing was handed to them. And that's what we need back here because this country's going to go down the cracks, and it's going down fast. - Curtis