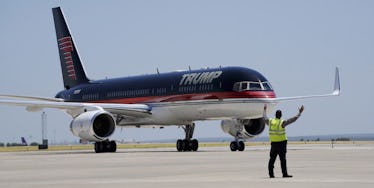 Donald Trump Has Been Flying His Private Jet Around The Country Illegally
REUTERS / Rick Wilking
Donald Trump's jet has been flying all over the last few months. Trump's jet is a vital part of his presidential campaign as it carries him around the country.
The plane is as flashy as everything else related to the short-fingered man. His name is painted in giant letters on it so you remember whom you're dealing with.
Trump even invited children of his supporters to run around and check out the inside of the plane on campaign stops.
But, The New York Times reports the Federal Aviation Administration registration for Trump's jet has been expired since January 31.
The FAA acknowledged Trump's registration was up, but did not say what actions it would be taking against him. The maximum possible penalty for flying without a registration is a civil penalty of $27,500, a criminal fine of $250,000 and three years in prison.
Making the situation even more ridiculous, the cost to renew a registration is apparently just $5.
A company owned by Trump operates the plane, according to The Times. The FAA reportedly alerted the company several times, saying the registration was expiring and needed to be renewed. The FAA sent the company a final notice about the registration on December 1.
On March 1, in a letter to Trump's LLC, the FAA said,
The aircraft's registration and airworthiness certificates no longer support the aircraft's operation.
Trump's jet likely has to be grounded for at least a few days -- but maybe a few months -- to sort out this mess with the FAA. But Trump being Trump, he has a few other planes he can use to carry on his campaign.
This whole situation really does beg the question: How easy is it to fly an unregistered plane around? I mean, Trump's jet is pretty high-profile, and obviously the FAA was aware the registration was expired.
Now, we all know you can apparently fly a private jet around for at least a couple weeks before you get stopped. You know, in case you've got a private jet lying around or whatever.
Citations: Donald Trump's private jet has been flying around illegally for months (Fusion), Donald Trump's Jet, a Regular on the Campaign Trail, Isn't Registered to Fly (The New York Times), Pregnant Ivanka joins Melania for the final few hours of Trump's campaign in Iowa: The Donald pulls out all the stops in glamorous last-minute push (Daily Mail)