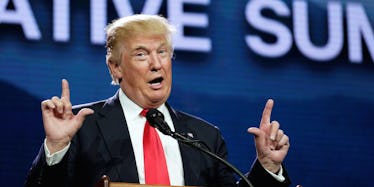 Donald Trump Is Officially The GOP Nominee And People Are Freaking Out
REUTERS
It's official: Donald J. Trump is the Republican nominee for president.
Indeed, the party of Lincoln is now represented by a former reality TV star whose campaign has been defined by xenophobic, bigoted and mysoginistic sentiments.
On Tuesday, the real estate mogul was formally nominated during the Republican National Convention in Cleveland, securing the necessary delegates on the convention floor during the roll call vote.
Abraham Lincoln, widely regarded as one of the greatest presidents in history, if not the greatest, somehow held the country together during one of its darkest and most divisive moments.
Trump, widely regarded as one of the most despised presidential candidates in history, is poised to catalyze perhaps one of the most schismatic eras in this country's short but storied existence (if he's actually elected).
Understandably, many are not too happy about this news. It's hard to stomach the fact a demagogue is officially the presidential candidate for one of the two major political parties in the US.
And what do people do when they need to express how terrified they are about the state of the world? They turn to social media.
Here are some of the best (and most panicked) Twitter reactions to this major development for both the 2016 election and the history of the Republican party.
Buckle up America, we're in for one hell of a ride.