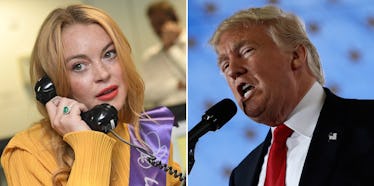 Trump Said Lindsay Lohan Must Be 'Great In Bed' Since She's 'Deeply Troubled'
REUTERS
In the continuing waterfall of sexual assault accusations coming out against Republican presidential nominee Donald Trump, audio has emerged of Trump crudely discussing Lindsay Lohan.
The audio was uncovered by CNN and was, of course, from one of Trump's many appearances on the Howard Stern Show.
https://t.co/hibcYc6Wkb pic.twitter.com/y5xudMALlt — Kyle Blaine (@kyletblaine) October 14, 2016
Trump and Stern, both grown men, were talking about Lindsay Lohan in December 2004, when she was 18 years old.
To give you some context, this was the same year "Mean Girls" came out and a few years before the DUIs and Samantha Ronson.
December 2004 was also when Lohan's debut music album, "Speak," was released.
That album wasn't the one which featured Lohan's "Confessions of a Broken Heart (Daughter to Father)," but it was around this time that rumors about Lohan's relationship with her father started swirling.
Around the release of this album, these two grown men spoke publicly about the teenager. Stern told Trump he thinks she's "hot." Trump responded,
But you have to like freckles. I've seen a, you know, close up of her chest and a lot of freckles. Are you into freckles?
Stern, who was 50 years old at the time, said he liked the 18 year old's red hair and her Entertainment Weekly cover.
Trump, who was 58 years old at the time, asked Stern if the rumors about the 18-year-old's father bothered him when thinking about her in a sexual context.
Stern, 50, wondered aloud,
Can you imagine the sex with this troubled teen?
Trump, 58, responded,
She's probably deeply troubled and therefore great in bed. How come the deeply troubled women, you know, deeply, deeply troubled, they're always the best in bed?
The 50-year-old man with a longstanding radio platform explained to a listening audience that it's his perspective that "deeply troubled women" are great to have sex with because they're seeking approval and father figures
The 58-year-old man currently running for president added he had a "great playboy" friend who said he only wants "crazy women."
The Republican presidential nominee told the audience he agreed with his friend, saying,
What I said is true. It's just unbelievable. You don't want to be with them for long term, but for the short term there's nothing like it.
This conversation took place about a month before Trump married his third wife, Melania.
Lohan has just returned from a trip to Turkey, where she was visiting the Syrian refugees Trump has said he would keep out of the US. She has not yet commented on this resurfaced audio.*
*UPDATE, 4:30pm EST: Lohan's representative, Hunter Frederick, has provided a statement:
Right now, Lindsay is choosing to focus on the positive things happening in her life and has decided to disregard the comments made about her by Presidential nominee Donald Trump. She is focusing on helping children around the world in need and that's where her passion is.
Frederick added for himself,
Donald Trump is a perfect example that money cannot buy you class. As a man, I am disgusted.
The election is on November 8.
Elite Daily and 50 other media organizations partnered with Rock The Vote to register 100,000 women to vote. You can register right here (and men can use it too) :