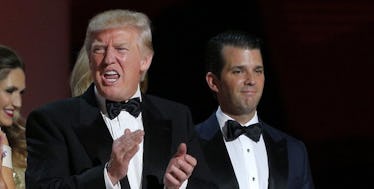 Donald Trump Jr. Talking About Relationship With Dad Will Make You So, So Sad
REUTERS
Donald Trump should not be talking to his sons all that much, and according to Donald Jr., he's following that rule.
These are the conditions Trump set when he took over the presidency.
A major issue with Trump leading the country is the fact he has a large web of businesses — many of which are international — which creates conflicts of interest.
Presidents and other public servants are not supposed to profit from governmental work or have it influence their decisions.
It's especially tricky with Trump because he never released his tax returns, so we don't even have that insight into his business.
Trump made a number of claims about how he'll handle those conflicts of interest in office.
He said his sons, Donald Jr. and Eric, would take over the business.
Meanwhile, however, he's not supposed to be talking to them about the business or his work as president so as to avoid conflicts of interest.
During a fundraising speech for the GOP in Dallas on March 11, Donald Jr. spoke about his relationship with his father.
He said,
I basically have zero contact with him at this point.
The eldest son of Trump and his first wife, Ivana, went on to say that he thought he was done with politics once the election ended. He said,
I thought I was out of politics after Election Day and [would] get back to my regular life and my family. But I couldn't.
However, he misses the rush of it too much, which is, apparently, why he was speaking at the political fundraiser.
Trump Jr. said,
Deals are still exciting. But when you're the sort of guy out there every day, 24-7, fighting in this thing — it's like a great fight.
Although Donald Jr. may not be talking much to his father lately, he is still proud of him:
I'm watching more take place in two months than I saw in two terms before.
Indeed, there have been historic protests in the past two months larger than ones taken place in the two terms before.
Citations: Donald Trump Says His Sons Will Run His Company, But 'No New Deals' While He's In Office (Huffington Post), Donald Trump Jr: At Fundraiser, President's Son Says 'Zero Contact' With Dad (NBC)