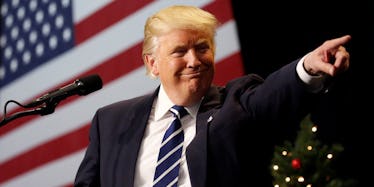 Viral Joke About Donald Trump's Hands Just Scored Everyone Free Birth Control
REUTERS
I bet you never thought you'd want to shake Donald Trump's tiny hand, but you're gonna want to after hearing this news.
Users of the app Nurx can get free birth control when they punch in a promo code that rips on the president-elect's minuscule mitts.
The San Francisco start up is a hassle-free way of getting the pill, ring or patch. All you have to do is fill out a couple of medical questions on the app, sync it up with your insurance and pick your birth control.
It gets delivered for free right to your front door. You can get these orders automatically re-filled to save you the pain of going to the doctor's office or pharmacy.
Earlier this week, the guys over in San Fran launched the "TinyHands" campaign. Throw the phrase in the the promo box at checkout and get $45 worth of credit towards your bill.
Hans Gangeskar, co-founder and CEO of Nurx, said,
Donald Trump has said repeatedly that he wants to repeal the Affordable Care Act, and that would mean that millions of women would lose access to free birth control This motivated us to figure out a way to help make contraception even more accessible.
The app is currently available in California, New York, Washington, Pennsylvania and Washington D.C.
The code is valid until the end of the month -- around the same time Donald Trump is sworn in -- so jump on it ASAP and beat the system.
FYI, there is living, breathing proof the big man actually has tiny gloves.
See. They're smaller than 85 percent of men.
Last year, someone printed off an outline of Trump's hand so you can measure up to it. They managed to figure out Trump's hands, which are about 7.25 inches long, fall under the average hand-size for American men.
Yikes.
Citations: https://www.bustle.com/p/how-to-get-free-birth-control-from-the-nurx-app-thanks-to-donald-trumps-hands-28137 (Bustle)