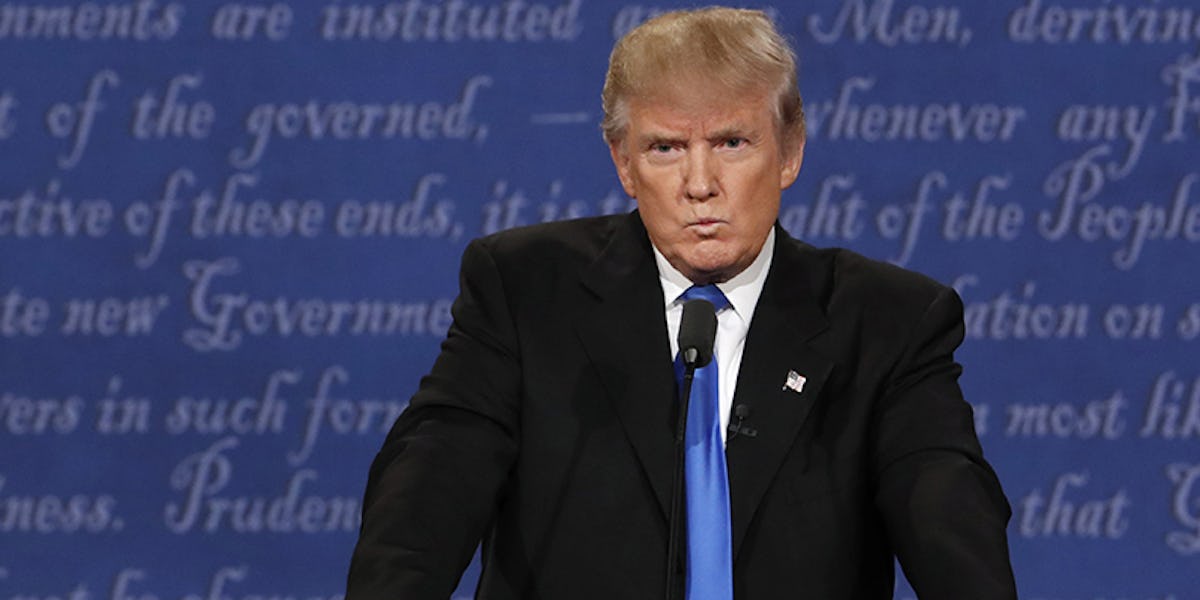 Trump Says He's Saving His Biggest Hillary Insult Yet For The Next Debate
Reuters
Donald Trump says he was happy he didn't bring up Bill Clinton's "indiscretions" on Monday night. But he also said that he just might do it the next time around.
When he was asked to specify exactly what he held back from saying to Hillary Clinton onstage, Trump slyly told CNN's Dana Bash,
I'll tell you maybe at the next debate, we'll see.
The brief exchange between Trump and Bash happened in the spin room at Hofstra University. The video that captures this moment is below.
Trump: "I'm very happy that I was able to hold back" on Bill Clinton's "indiscretions" https://t.co/iXIwDaIPem https://t.co/LKaHt4NI6b — CNN Politics (@CNNPolitics) September 27, 2016
The GOP candidate's words were in clear reference to the most infamous Clinton scandal: Bill's sexual relations with Monica Lewinsky in the White House.
But Trump isn't the only one who's raised the idea of using that scandal as a comeback.
On one hand, the Republican presidential nominee said he was pleased that he didn't bring up Bill Clinton's infidelity. But on the other hand, a number of Trump's high-profile supporters said that he SHOULD HAVE, particularly when Hillary peppered Trump toward the end of the debate with attacks on his record of treating women.
When Elite Daily caught up with Rudy Giuliani, here's what he had to say about why that moment was the time to bring up Bill Clinton's past.
I asked Giuliani if Trump is a feminist #DebateNight pic.twitter.com/xWvkgVuKXV — Alexandra Svokos (@asvokos) September 27, 2016
During CNN's post-debate coverage, Hillary Clinton supporter Paul Begala said it would be a "low blow" for Trump to resort to such a move. But Giuliani expressed his view that the point of bringing up the affair would actually be to paint Hillary Clinton as the one who lacks feminist ideals.
I sure would've talked about what she did to Monica Lewinsky, what that woman standing there did to Monica Lewinsky, trying to paint her as an insane young woman... She [Hillary] didn't just stand by him [Bill], she attacked Monica Lewinsky.
Trump did NOT explicitly mention Bill Clinton and Monica Lewinsky. However, after a night when even some of his biggest supporters felt like he went too soft on Clinton, it sure looks like he might do it at the next debate.