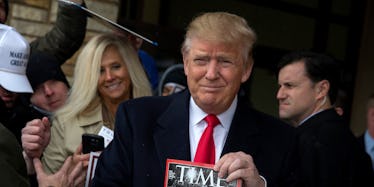 Trump Has A Fake "Time" Cover On Display, And Twitter Can't Stop Laughing
Aaron P. Bernstein/Getty Images
For Donald Trump, self-promotion has always been a key component of his persona. So hanging up a framed copy of a Time magazine cover, featuring him front and center, in several of his golf resorts wouldn't be such a stretch.
After all, with a headline as congratulatory as, "DONALD TRUMP: 'The Apprentice' is a television smash!" anyone would proudly hang that where customers and clients alike could see the kudos given by such a venerated news source.
But there's just a small problem with the display: the cover is fake. Not fake as in slightly manipulated or tweaked to make his skin look better or the font more readable. Fake as in: Time never ran a congratulatory Apprentice-related cover.
For a president who spends much of his time shouting about "fake news" -- he has tweeted about "fake news" 37 times and tweeted the phrase "witch hunt" 11 times so far this year -- it seems an embarrassing lapse of judgment.
The discovery was made by Washington Post reporter David Fahrenthold, who has made a name for himself by extensively covering the Trump family and their business interests. (His work covering the Donald J. Trump Foundation, including his attempt to verify claims that President Trump had given away millions of dollars to charity, won him the Pulitzer Prize for National Reporting earlier this year.)
Fahrenthold said that he was initially tipped off by the haphazard photoshopping: the too-skinny red border and odd stacking of text -- and the literally exclamatory nature of the headlines. "Time headlines don't yell," he writes.
And, well, Twitter is losing it.
Others did research of their own and found out that the barcode, while real, had nothing to do with Trump or Time. Like, at all:
Which, it turns out, is from a tutorial on making fake Time covers:
Some were, uh, sympathetic to the President's self-congratulatory art project:
Sports Illustrated absolutely roasted the president:
To which people answered with beautiful, disturbing photoshopped SI covers:
Time has even asked Trump properties to take down the covers, according to an update provided by Fahrenthold:
Don't worry, Donald. You can always swap it out for this cover.