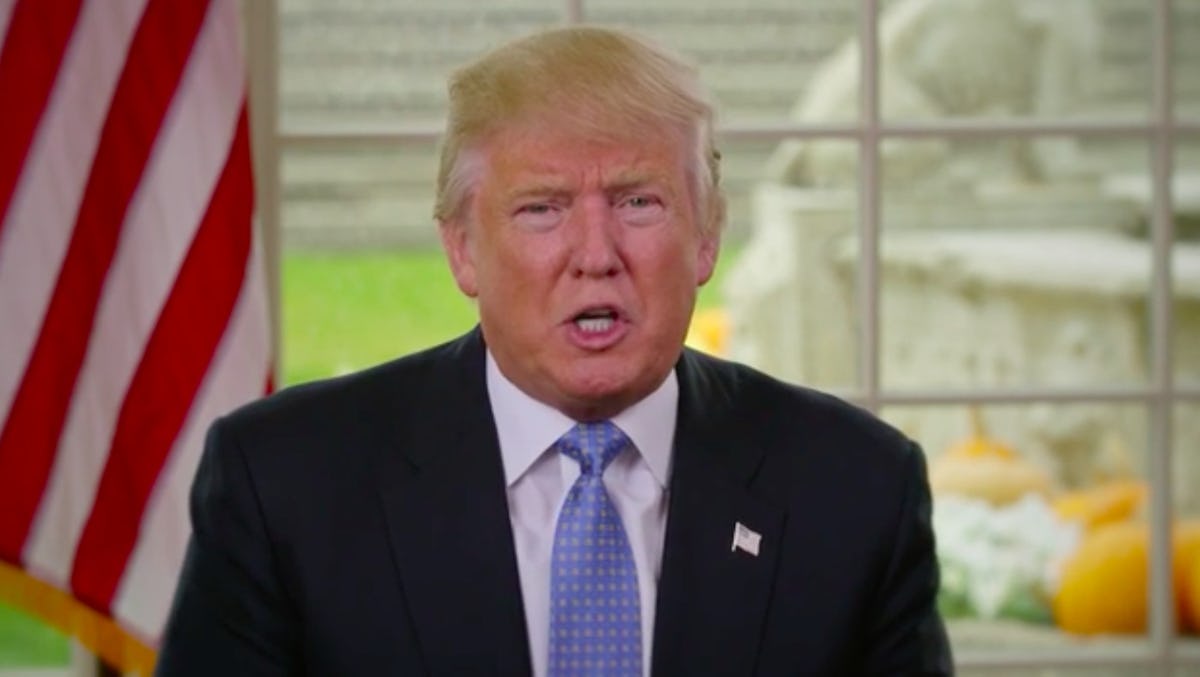 Trump Outlines The First 100 Days Of His Presidency In Unsettling New Video
YouTube
Donald Trump's got a hell of a first day in office, if he sticks to everything he promised in his latest public address.
The future president outlined what he's going to do as soon as he gets the keys to the White House.
In a YouTube video, a cool, calm and collected Trump said,
My agenda will be based on the simple core principle of putting America first. Whether it's producing steel, building cars or curing disease, I want the next generation of production and innovation to happen right here, in the great homeland of America.
So, what does he have up his sleeve for day one in office? Well, he wants to kickstart a few changes he's been dying to make since the campaign trail.
Trade
Trump's going to issue a notification of intent to withdraw from the Trans-Pacific Partnership.
He branded the partnership "a potential disaster for our country." Instead, he's going to implement trade deals to bring jobs back on American soil.
Energy
He's vowed to cancel "job-killing" restrictions on the production of American energy.
Regulation
For every one new regulation, two old regulations must be eliminated, he said.
National security
Trump plans on asking the Department of Defense to develop a comprehensive plan to protect America's vital infrastructure from cyber attacks and "all other form of attacks."
Immigration
He'll instruct officials to investigate all abuses of visa programs "that undercut American workers."
There was no word, however, on his plans to build a giant wall, and he did not hint at mass deportation as he has done in previous post-election interviews.
There was no sign of the the hot-headed man we saw on the campaign trail.
In fact, Trump came across fairly chill and succinct in this two-minute spiel.
WHAT HAVE YOU DONE WITH THE REAL DONALD TRUMP!?
Citations: DailyMail.com