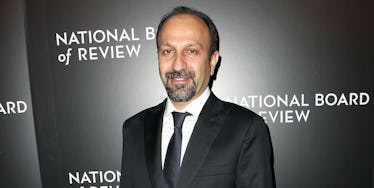 Director Protests The Oscars Over Trump's Ban, Still Wins Best Foreign Film
REX/Shutterstock
At the 2017 Oscars, Iranian director Asghar Farhadi won the coveted award for Best Foreign Film for his incredible film "The Salesman," but he was not in attendance.
This was a personal decision for Farhadi in response to a President Donal Trump's ban on citizens from seven predominantly Muslim Middle Eastern countries from entering the US earlier this year.
Before being lifted, this ban initially directly affected Farhadi, keeping him from entering the Unite States.
In Farhadi's absence, Iranian-American engineer and first female space tourist Anousheh Ansari accepted the award on his behalf.
Ansari read Farhadi's speech saying,
It's a great honor to be receiving this valuable award for the second time. I would like to thank the members of the Academy, my crew in Iran, my producer Alexandre Mallet-Guy, Cohen media, Amazon and my fellow nominees in the foreign film category. I'm sorry I'm not with you tonight. My absence is out of respect for the people in my country and those of other six nations whom have been disrespected by the inhumane law that bans entry of immigrants to the US.
Dividing the world into the 'us' and 'our enemies' categories creates fear, a deceitful justification for aggression and war. These wars prevent democracy and human rights in countries which have themselves been victims of aggression. Filmmakers can turn their cameras to capture shared human qualities and break stereotypes of various nationalities and religions. They create empathy between 'us' and 'others,' an empathy which we need today more than ever. Thank you on behalf of Mr. Farhadi.
Just before the Oscars telecast, PEOPLE reports Farhadi also addressed 10,000 London protesters via a video link from the city of Tehran who were gathering for a screening of the movie "The Salesman" in solidarity and unity against Trump. 
He said,
This solidarity is off to a great start. I hope this movement will continue and spread for it has within itself the power to stand up to fascism, be victorious in the face of extremism and say no to oppressive political powers everywhere.
This is Farhadi's second Oscar win.
Citations: Iranian Director Who Skipped Oscars Bashes Trump's 'Inhumane' Travel Ban in Acceptance Speech Statement (PEOPLE)