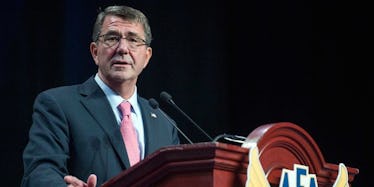 Defense Secretary Says US Troops Will Begin Fighting ISIS On The Ground
The United States has been pummeling ISIS with airstrikes for over a year now, with little to show for it.
Consequently, it now seems US ground troops will begin playing an active combat role against the terrorist organization.
On Tuesday, Defense Secretary Ash Carter revealed the Obama administration is changing its course against ISIS, stating it will initiate "direct action on the ground" in Iraq and Syria, NBC News reports.
Sec. Ash Carter's testimony: US now overtly conducting ground combat operations. pic.twitter.com/QGQO5jZlV4 — Micah Zenko (@MicahZenko) October 27, 2015
Carter's statement comes about a week after a US commando died during a rescue operation at an ISIS compound in northern Iraq. The soldier who died, Master Sergeant Joshua Wheeler, is the first US service member to be killed during combat with ISIS.
Following last week's events, Defense Secretary Ash Carter stated he was "absolutely prepared" for US troops to play a greater combat role against ISIS on the ground, Foreign Policy reports.
He warned this means American service members in the region will undoubtedly "be in harm's way."
The defense secretary stated America's new strategy will involve airstrikes in Raqqa (ISIS's capital), retaking Ramadi (a major city in Iraq under ISIS's control) and raids on the ground similar to the rescue operation conducted last week, ABC News reports.
Washington's new strategy for fighting ISIS: "Raqqa, ramadi and Raids" -- Special Ops getting back into the ground fight — paul mcleary (@paulmcleary) October 27, 2015
All of this represents a major shift in terms of America's approach to the fight against ISIS.
Not long after the US began bombing ISIS last year (which wasn't long after US military advisors were sent to Iraq), President Obama vowed to keep American boots off the ground in Syria and Iraq.
He wanted to alleviate concerns about the US getting bogged down in another lengthy and costly war in the region. But perhaps he was overly optimistic about the impact airstrikes would have.
According to the US Department of Defense, the US and its allies conducted over 7,000 strikes over the course of the past year or so, spending around $4 billion ($10 million per day) in the process.
But ISIS still controls a significant portion of territory as it continues to recruit new members.
This is precisely why the Obama administration appears to be reneging on its initial promises.
None of this paints a very positive picture of America's strategy against ISIS, or lack thereof.
All signs seem to suggest the US will be engaged in Iraq and Syria for far longer than the Obama administration originally intended. And, once again, it seems US troops will be fighting on the ground in Iraq.
Citations: Ashton Carter US to Begin Direct Action on the Ground in Iraq Syria (NBC News), Operation Inherent Resolve (US Dept. of Defense), Thousands Enter Syria to Join ISIS Despite Global Efforts (NYT), Obama says it again No ground troops in Iraq (CBS News), Defense Secretary Absolutely Prepared for More US Ground Combat in Iraq (Foreign Policy), US Shifting Anti ISIS Strategy to Gather Battlefield Momentum DoD Secretary Ash Carter Says (ABC News)