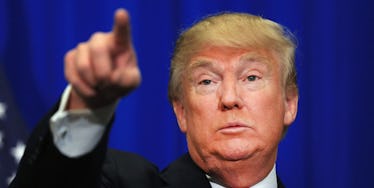 This Cow Farmer Announced His Hate For Donald Trump With Actual Sh*t
Getty Images
Republican presidential candidate Donald Trump is an extremely divisive character. In spite of evident support from certain segments of voters, a recent Gallup poll showed around 60 percent of Americans view Trump unfavorably.
In other words, a lot of people believe the controversial real estate mogul is completely full of sh*t.
These sentiments were recently echoed in a very powerful way when an Ohio farmer took the time to spell out "NO TRUMP" with cow manure (actual sh*t).
The man's pungent political statement was large enough to be seen from the sky.
The farmer's name is Jerry Slankard, and it reportedly took him four hours to spell out to the world (with cow sh*t) how much he doesn't like Trump.
Speaking with Times Reporter (out of Ohio), the farmer said,
It's just, [Trump] doesn't have any political experience, not to mention, he's a bully. If I'm going to hire someone, I'd want to hire somebody with some experience. And if I don't know anything of what I'm doing, I'm not the right guy to hire to start with.
Slankard's wife, Judy, is in agreement with her husband.
She told Times Reporter she followed along the most recent Republican presidential debate with a computer in order to fact-check Trump's statements.
In the end, Judy was not a fan of Trump's performance, and she made it clear she really doesn't want to see him in the White House.
She said,
Nine out of 10 things that Trump said was a lie. I think it's down to him and Hillary. I hope and pray for the sake of my grandkids that he doesn't get it.
As Huffington Post notes, it's not all that surprising farmers are unimpressed by Trump, given he wants to deport all of the undocumented immigrants in the US (over 11 million people) and the fact they make up a significant portion of the agricultural labor force.
The US Department of Agriculture states, "About half of the hired workers employed in US crop agriculture [in the past 15 years] were unauthorized."
Simply put, undocumented immigrants are vital to America's economy, and if Trump becomes president and institutes his proposed immigration policies (among others), it could have a detrimental impact on the nation's well-being.
Citations: Farmer Appropriately Uses Manure To Spell Out 'No Trump' (Huffington Post), Area farmer uses cow manure to offer his take on presidential race (Times Reporter), Trump's Negative Image (Gallup), Immigration Policy and Its Possible Effects on U.S. Agriculture (United States Department of Agriculture)