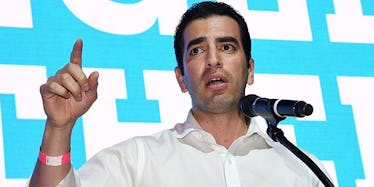 Congressmen Who Were Undocumented Immigrants Plea With Trump To Keep DACA Alive
Ethan Miller/Getty Images
Over the past few weeks, President Donald Trump has been mulling over ending DACA, a program that protects undocumented immigrants who came to the U.S. as children. Before the official decision comes, two congressmen, Representatives Rubén Kihuen and Adriano Espaillat, who were also once undocumented have appealed to the president to keep the program. In a joint letter, Kihuen and Espaillat wrote to Trump about DACA,
We both remember arriving in the United States, speaking limited English, and being fearful of deportation. Our backgrounds and the trajectory of our careers have been humbling, and show how, with the right opportunities, anyone can achieve the American Dream. Hearing about the looming threat to other young men and women who may be deprived of that American Dream is extremely concerning, and is causing fear in communities throughout the country.
The "looming threat" to which Kihuen and Espaillat refer in their letter is the potential end of the Deferred Action for Childhood Arrivals, otherwise known as DACA.
DACA is an Obama-era policy that provides a pathway to citizenship for undocumented immigrants who came to the U.S. as children, sometimes regarded as "Dreamers." The policy also makes provisions for Dreamers to be granted work permits.
There are an estimated 800,000 Dreamers in the U.S, according to HuffPost. On numerous occasions since winning the presidency, Trump has stated that deciding whether to end or continue the policy would be one of his toughest tasks.
In February, Trump told media members,
We are gonna deal with DACA with heart. I have to deal with a lot of politicians — don't forget — and I have to convince them that what I'm saying is right. And I appreciate your understanding on that.
Trump has yet to make an official decision. On Thursday, Aug. 31, however, Fox News cited an unnamed administration official while reporting that the president is expected to end the program.
Until that official end comes, though, Kihuen and Espaillat -- the first members of Congress to have been undocumented immigrants, will hope their appeals helps sway the president.