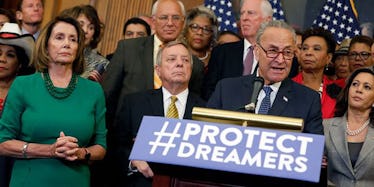 Congress Could Save DACA Before It Ends In 6 Months, Here's How
Aaron P. Bernstein/Getty Images
As things presently stand, the Deferred Action for Childhood Arrivals program (DACA) is expected to end in March 2018, without any replacement in place. During the six-month period between now and that March deadline, any hope of the program being brought back hinges on one question: Will Congress save DACA? According to one Republican senator, the answer is an unequivocal yes.
That senator is South Carolina's Lindsey Graham, who discussed the end of DACA during a Wednesday, Sept. 6, appearance on Fox & Friends. When asked whether Democrats and Republicans could make a deal to keep DACA alive, Graham did not hesitate to answer.
The senator said,
Absolutely. Put it in the bank.
Graham is one of the GOP Congress members who advocated against ending DACA permanently, which bring us to a basic fact about the subject of Congress and DACA: There are a number of Republicans who support the general idea of protecting "Dreamers," the young people who came to the country as undocumented immigrants and are protected from deportation by DACA.
Democratic Sen. Kamala Harris echoed that very notion during her own cable news appearance on Wednesday. When asked by MSNBC's Lawrence O'Donnell whether she thinks Congress could get a deal done, she replied,
I do, Lawrence. I'm co-sponsoring a bill with Lindsey Graham and others, and I think that there is leadership on the Republican side of the aisle to get this done.
The bill that Harris mentioned she and Graham are working on is a revised version of the 2001 DREAM Act -- which is the reason why young undocumented immigrants who arrived in the United States are called Dreamers, because they are the immigrants the DREAM Act sought to protect.
The DREAM Act was first introduced 16 years ago by another Republican in Congress who advocated against ending DACA: Utah's Orrin Hatch. The problem for Hatch, Graham, and other members of Congress who try to get a DREAM Act to the finish line has been the details.
Getting everyone to agree on the specifics -- questions like whether Dreamers will be granted full citizenship --  has proven itself to be an insurmountable challenge.
This time around, the strategy for how Congress will try to save DACA seems clear. As Graham mentioned, a new law could feature protection for Dreamers, but also stipulations that increase security at the border.
There's another important factor, though.
During his appearance on Fox & Friends, Graham also said there's another Republican who could help make Congress' latest efforts successful: President Donald Trump.
Trump has already voiced a desire to see Congress cement DACA in law -- which is different from what it is now, an executive order that former President Barack Obama said was meant to be temporary -- and on Thursday morning Trump tweeted that people concerned about DACA have "nothing to worry about."
There are indeed things for Dreamers to worry about, however. New applicants are no longer being accepted into DACA (effective this past Tuesday), and there are fears that Dreamers who actually were accepted into DACA can have information they voluntarily provided to the government now used against them to expedite deportation.
Whether those fears are around for the long term now depends on whether Congress actually finds a permanent law similar to DACA.