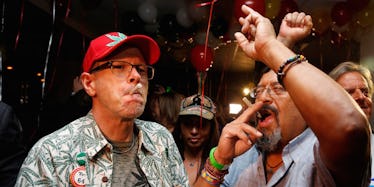 Colorado Made $1.1 Billion On Pot In 2016, So It's Time To Legalize Nationwide
REUTERS
It's been a tough year in a lot of respects, but if there's been one winner in 2016, it's marijuana.
Voters in four states – California, Maine, Massachusetts and Nevada – legalized recreational marijuana in November.
To top it all off, Colorado made $1.1 billion off of recreational and medical cannabis and cannabis-related products, which could rise to $1.3 billion by the end of the year.
According to The Denver Post, marijuana shops in the state made $1 billion in the first 10 months of 2016 alone.
This massive number is a big improvement from the already impressive annual marijuana revenue of $996 million in 2015.
Colorado collected $63.4 million in marijuana taxes in 2014 and $120.6 million in 2015.
But in the first 10 months of 2016, it collected a whopping $150 million in marijuana taxes, the Cannabist reports.
This money is being put to good use.
Colorado is using money made from marijuana taxes to support schools, law enforcement and drug education, among other programs.
In May, the city of Aurora, Colorado set a particularly good example when it announced it would use $1.5 million gained from the tax on recreational pot to help its homeless population.
Long story short, we are seeing more and more evidence to support the notion of legalizing recreational marijuana nationwide.
A majority of Americans (60 percent) support legalization, it's less dangerous than alcohol (no one has ever overdosed on weed) and the legal marijuana industry is clearly very profitable.
Research shows the legal pot industry in the US could see its total annual sales rise to almost $22 billion by 2020, according to Fortune.
Not to mention, tax revenue from legal marijuana sales can obviously be used for benevolent purposes.
We've also arrested and incarcerated far too many individuals for nonviolent marijuana-related offenses. It's long past time for this to end.
It's unclear what might happen to the movement for legal marijuana with Donald Trump as president.
The president-elect has been fairly unclear about where he stands on this issue, but he did recently nominate a man who's extremely anti-marijuana, Senator Jeff Sessions, for attorney general. This does not bode well.
But anyone who currently has a negative view of marijuana should seriously consider the practical reasons for legalizing it, particularly from an economic standpoint.
In short, it's time to legalize in all 50 states.