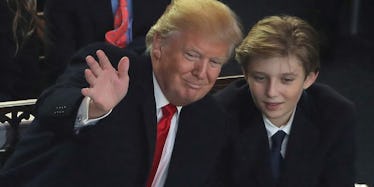 Chelsea Clinton Claps Back At Cyberbullies Who Keep Trolling Barron Trump
REUTERS
After trolls targeted Donald Trump's youngest child, Barron, over his facial expressions during the inauguration, Chelsea Clinton came to the boy's defense on social media.
She said,
Barron Trump deserves the chance every child does-to be a kid. Standing up for every kid also means opposing POTUS policies that hurt kids.
Clinton posted this message on Facebook and Twitter.
A lot of people are applauding Clinton for defending Barron.
Chelsea, a former child of the White House, knows exactly how difficult it is to be in the spotlight when you didn't really have a choice in the matter.
And her defense of Barron was very aptly worded.
In short: Let him be a kid. But, yes, if his father institutes policies that are detrimental to America's children, speak out.
Kids don't get to choose their parents, but some people seem to have forgotten that.
It's a generally held belief that the children of politicians should be left alone. This has been especially true in relation to the first family.
This hasn't always happened, of course, but anyone who's attacked the children of presidents in the past have typically been met with swift retribution.
But, given Trump is especially unpopular, a number of people appear to feel his offspring are an exception to the rule.
Yes, other than Barron, all of Trump's children are adults and are often quite outspoken on political issues (and have generated a lot of outrage in the past).
Not to mention, Ivanka Trump is essentially America's new first lady now.
If you disagree with things the older Trump kids say, and feel the need to challenge and criticize, that is your prerogative.
But Barron is just a kid, and some of the memes and tweets that were directed at him after the inauguration were just cruel.
An SNL writer, Katie Rich, received a lot of backlash in particular over this tweet about the young boy. The tweet has since been deleted (and her account appears to have been taken down).
Others joined in with similar attacks.
And it's probably safe to say a lot of the people who came after Barron didn't see this adorable clip of him playing with his nephew.
President Donald Trump might go low on a lot of issues, but attacking his son in response is definitely not going high.
Cyberbullying a child is an utterly classless and abhorrent thing to do.
Leave the kid alone.
Citations: Chelsea Clinton Says Barron Trump Deserves the Chance to Be a Kid (PEOPLE)