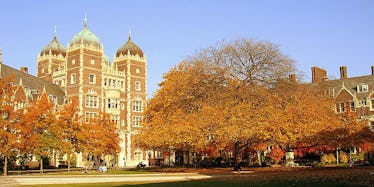 Black UPenn Freshmen Were Sent Racist, Violent Messages About Lynching
Wikimedia Commons
Black freshmen students at President-elect Donald Trump's alma mater were subject to messages of hate on Friday, via a seemingly deliberate and targeted verbal attack via social media.
According to the Daily Pennsylvanian, the campus newspaper for the University of Pennsylvania, first-year African-American students were added to a GroupMe message room where inflammatory messages were shared.
According to Huffington Post, which cited a student on campus, the name of the group chat had been changed throughout the day from titles like "Trump lovers" to "Trump is love," with usernames that were variations on "Barack Obama" and "Trump disciples."
On Friday afternoon, the school's top administrators sent a letter to the campus community condemning the messages.
This is absolutely vile material and completely offensive to everyone on our campus. We are both angry and saddened that it was directed to our students or to anyone. The people responsible for this are reprehensible. We have increased campus safety and are reaching out to support the affected students in every way we can, and want them to know that the entire Penn community stands with them.
Despite the fact the letter promised increased security on campus, it appears the sources of the messages came from far off campus.
On Saturday, CNN anchor Jake Tapper posted a statement that signaled UPenn had reached a resolution to the issue.
According to the statement, campus police and the FBI collaborated in an effort that found the messages were sent from a student at the University of Oklahoma.
While such news might calm any fears students might have had of feeling unsafe on campus, it appears the exposure to the GroupMe's hateful messages struck a few deep-seated feelings that had already existed.
One African-American sophomore told the Daily Pennsylvanian,
People ask me everyday am I a student here. I have a f***ing 3.2 GPA, I am about to get my Master's and people ask me every day, do you belong here, explain yourself. So for freshmen, who are made to feel like they don't belong here... They'll wake up and see that somebody has set a date for them to be lynched, it's unacceptable and if the entire students body is not upset, shocked and outraged about it, I have nothing else to say.
As the name of the president-elect was invoked in the group messages, the political element to this incident has seemingly been an elephant in the room.
That fact is likely what prompted student group UPenn College Republicans to post this message on their Facebook page:
These messages are absolutely despicable. Hate such as this has no place on Penn's campus or in our nation. Our thoughts and prayers are with those affected, and we hope that Penn administration and Penn police find the perpetrators as soon as possible.
The investigation into the messages is still ongoing.
Citations: Black students at University of Pennsylvania receive racist group text messages (CBS), Black UPenn freshmen added to racist social media account with 'daily lynching' calendar (Washington Post), Black Freshmen At University Of Pennsylvania Receive Racist Messages Depicting Lynchings (Huffington Post), UPDATE: U. of Oklahoma student to be suspended for racist group message after Penn Police, FBI investigation (The Daily Pennsylvanian)