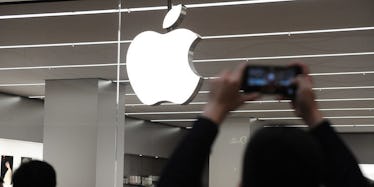 Black Teens Kicked Out Of Apple Store Because They 'Might Steal Something'
Getty Images
A cringeworthy video depicting several black students getting kicked out of an Apple store in Melbourne, Australia is generating widespread allegations of racism and racial profiling, The Washington Post reports.
In the video, posted to Facebook on Tuesday night, the students involved asked why they were removed from the store.
A man who seems to be either security or an employee at the Apple store replied,
These guys are just a bit worried about your presence in our store. They're just worried you might steal something.
The footage suggests the students were kicked out of the store due to their ethnicity.
Khalid Breezy, Petros Smalls, Deebo Ater Abdulahi Haji Ali Mohamed, Andy Gambino Nelson Mahad MohamudSimply Racism, made them apologise tho Posted by Francis Ose on Tuesday, November 10, 2015
All of the students in the video are teenagers and were reportedly born in Africa and moved to Australia as children. They come from Sudan, Somalia, Nigeria, Eritrea and Egypt, respectively, according to Mashable.
Apple reportedly apologized to the students for the incident and will continue to investigate what happened.
In a Facebook post on Tuesday night, Mohamed Semra, one of the young men involved in the unsettling incident, made it apparent he felt he was racially profiled.
Racial profiling has to stop, happens to often in America we don't need here in Australia too Posted by Mohamed Semra on Tuesday, November 10, 2015
Racial profiling is indeed a major problem in the US. According to the Bureau of Justice Statistics, for example, blacks are three times as likely as whites to be searched during a traffic stop.
As The Washington Post noted last December, the Bush administration made efforts to address racial profiling.
Unfortunately, it is such a widespread problem, the Obama administration is still fighting to stop it.
On more than one occasion, President Obama has also spoken about his experiences with racial profiling before entering the White House.
Responding to developments surrounding the controversial death of Trayvon Martin back in 2013, the president stated,
There are very few African-American men in this country who haven't had the experience of being followed when they were shopping in a department store. That includes me. There are probably very few African-American men who haven't had the experience of walking across the street and hearing the locks click on the doors of cars. That happens to me -- at least before I was a senator. There are very few African-Americans who haven't had the experience of getting on an elevator and a woman clutching her purse nervously and holding her breath until she had a chance to get off.
With that said, this recent incident at the Apple store did not occur in the US; it was in Australia. And this is hardly the first time Australia has been accused of having an issue with racism.
One could say this stands as a powerful reminder racism is not a uniquely American problem, but a global one.
It's difficult to remember this as the US confronts heightened racial tensions linked to high-profile police killings among other situations such as recent developments at Mizzou.
But the fight to end racism and cultivate tolerance must occur across the world, not just in America.
Citations: Theyre just worried you might steal something How an Australian Apple store told black schoolboys to get out (Washington Post), The long halting unfinished fight to end racial profiling in America (Washington Post), Melbourne teens say they were kicked out of an Apple store for being dark skinned (Mashable), Traffic Stops (BJS), President Obama addresses race profiling and Florida law (CNN), Why does the world think Australia is racist (The Guardian)