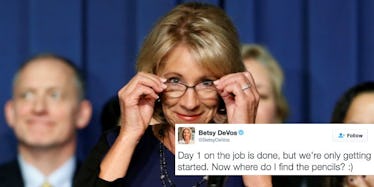 Betsy DeVos Finished Day One On The Job And Still Can't Find The Pencils
Reuters/Twit
On Tuesday, Betsy DeVos may or may not have bought her way into becoming the nation's secretary of education.
I mean, unless this was an entry level position? If that's the case, maybe I should have applied.
DeVos has never attended a public school, has never been a teacher, lacks basic educational concepts and has no banking experience.
Now, she is in charge of 4,400 employees and an annual budget of $68 billion. She also now manages a $1 trillion loan portfolio and is in charge of giving out grants that amass to over $30 billion in aid each year.
And she still can't find the pencils.
I was raised by a teacher's aid, my brother has always wanted to be a teacher and proudly works in public education, and my aunt and cousins also chose this often thankless path.
So, let me help you out, Betsy.
You have to bring the pencils in yourself.
Schools often lack funding for even the most basic of school supplies, and teachers often spend their own money to make sure their students have what they need.
The pencils are located in the office supply section in your local Target, grocery store or trading post. They're by the post-its and composition notebooks.
If you, a billionaire, can't find them, then you can send the help. Or grab some on your way out from your country club's golf course.
(Those tiny golf pencils actually work great for younger students as their hands can't grasp a typical-sized pencil, but I digress because I assume you don't care about them anyway.)
Wait a minute...
We have to analyze this tweet further.
If it's the end of her day, why is she walking toward her desk and not to her home? What is lurking there?
Computer, ENHANCE IMAGE.
OH, MY GOD. IT'S A NORTH AMERICAN GRIZZLY. THE TWO HAVE BEEN IN CAHOOTS THIS ENTIRE TIME TO DESTROY OUR PUBLIC EDUCATION.