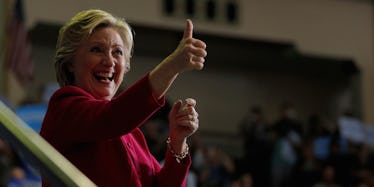 This Guy's Record-Breaking Bet Just Jinxed Hillary Clinton's Presidential Run
REUTERS
Someone just decided to make it rain all over US politics and bet $615,862 Hillary Clinton will win the presidential election in November.
This is the most anyone has ever bet on the US presidential election, according to Time.
On Friday, British bookmaker William Hill announced a 46-year-old female client placed a bet of €550,000 on Clinton becoming President at odds of 4/11, or a 73 percent chance of success.
This individual could potentially make a profit of around $224,000.
A spokesman for William Hill said,
As far as we are aware, this is the biggest wager ever taken on the US Presidential Elections. As a result of taking this bet, a win for Donald Trump has now become the favored outcome for us in terms of our liabilities for either of the two leading contenders.
Anyone who's even a bit superstitious might accuse this woman of jinxing Clinton's chance of winning.
With that said, things are currently looking pretty good for both our brave gambler and the former secretary of state.
She had a strong performance in the first presidential debate, and has a solid lead in the polls with election day roughly a month away.
A national poll released on Wednesday showed Clinton with a 10-point lead over Trump.
There's also the fact President Obama's approval rating just hit the highest mark of his second term (55 percent).
Given the close relationship between the Obama administration and Hillary Clinton, this is bad news for Donald Trump.
Trump has consistently painted a very pessimistic picture of the US throughout his campaign, frequently blaming President Obama for its supposed decline.
But it looks like a majority of Americans don't agree with the real estate mogul's assessment of the state of the country and the president.
In other words, maybe the person who made this bet isn't so crazy after all.
With only 31 days until the election, we will find out soon enough.
Elite Daily and 50 other media organizations partnered with Rock The Vote to register 100,000 women to vote. You can register right here (and men can use it too) :