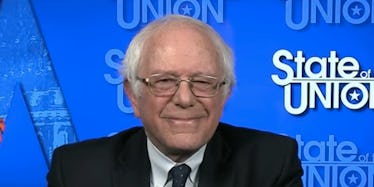 Bernie Has Most Grandpa Reply When Asked About Fashion Line Inspired By Him
YouTube
Former presidential candidate Senator Bernie Sanders is taking the fashion world by storm.
Well, sort of.
At Paris Fashion Week, Balenciaga's Fall 2017 menswear show featured several Bernie-inspired clothing items.
No, this is not fake news.
Bernie's revolution is continuing in more ways than he might have ever predicted.
CNN's Jake Tapper asked Sanders how he felt about this in a recent interview.
Tapper said,
I want to ask you... about something that is admittedly rather frivolous. I want to ask you about this bizarre sighting at Paris Fashion Week from Balenciaga. Take a look. These are a number of models on a runway in Bernie clothes. Did you ever think you would become a fashion icon?
Bernie laughed and humbly dismissed Tapper's suggestion he's a "fashion icon."
He said,
I think, of my many attributes, being a fashion maven is not one of them.
Perhaps Bernie is selling himself short.
Everyone's favorite socialist grandpa from Vermont has a certain swagger about him — whether he wants to admit it or not.
Bernie has a very no-nonsense attitude, which is a large part of his appeal as a politician (and is reflected in his wardrobe choices — the man has bigger fish to fry).
Correspondingly, in the same interview with Tapper, Sanders also took the opportunity to strongly criticize President Donald Trump.
This guy is a fraud. This guy ran for president of the United States saying, 'I, Donald Trump, I'm going to take on Wall Street — these guys are getting away with murder.' Then suddenly, he appoints all these billionaires. He is a good showman, I will give you that — he is a good TV guy. But I think he is going to sell out the middle class, the working class, of this country. It is hard not to laugh to see President Trump alongside these Wall Street guys.
Strong words from the politician/fashion icon.
It makes you wonder if Trump will tweet about how the Bernie-inspired fashion line was awful and how much better the Donald J. Trump Collection (made in places like China, Bangladesh, Honduras and Vietnam) is.
What a time to be alive!
Citations: Sanders on Trump: 'This guy is a fraud' (CNN), How many Trump products were made overseas? Here's the complete list. (The Washington Post)