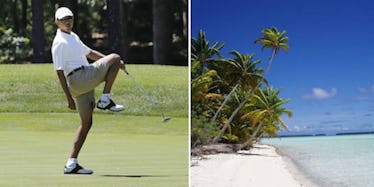 Obama's Abandoning Us For This Gorgeous Island So He Can Write His New Memoir
REUTERS/Shutterstock
Former President Barack Obama is living his best life.
He and Michelle have vacationed in Palm Springs, the Caribbean and Hawaii since leaving the White House.
Now, the former president is planning on spending some time in Tetiaroa, an island once owned by Marlon Brando, to write his memoir on his eight years in office.
Must be nice to be that cool.
For context, here are some photos of Tetiaroa:
Both Barack and Michelle recently signed a $65 million book deal, which is reportedly the largest presidential book deal in history (swag).
So yeah, their lives definitely do not suck right now.
New life goal: Become President of the United States, then go to island formerly owned by an iconic actor and pen memoir for millions of dollars.
According to Vanity Fair, Michelle will not be joining her husband in Tetiaroa. Instead, she will write her own book from Washington, DC.
The couple's daughter, Sasha, still attends school in the nation's capital, and they are renting a home in the neighborhood of Kalorama, not far from where Ivanka Trump and Jared Kushner are also currently renting (awkward).
Tina Tchen, Michelle Obama's White House chief of staff recently told The Washington Post,
She's got one daughter to get off to college, another is a [sophomore] in high school. All of that comes first. Now she will also be working on the book and still keeping up her engagement with the community as she always has.
In addition to penning his White House memoir, the former president is also planning on getting involved in tackling the issue of gerrymandering alongside former Attorney General Eric Holder.
He might not be the president anymore, but he's definitely keeping busy.
Obama is only 55, so, in many ways, he still has his whole life ahead of him.
Citations: Two months out of office, Barack Obama is having a post-presidency like no other (The Washington Post)