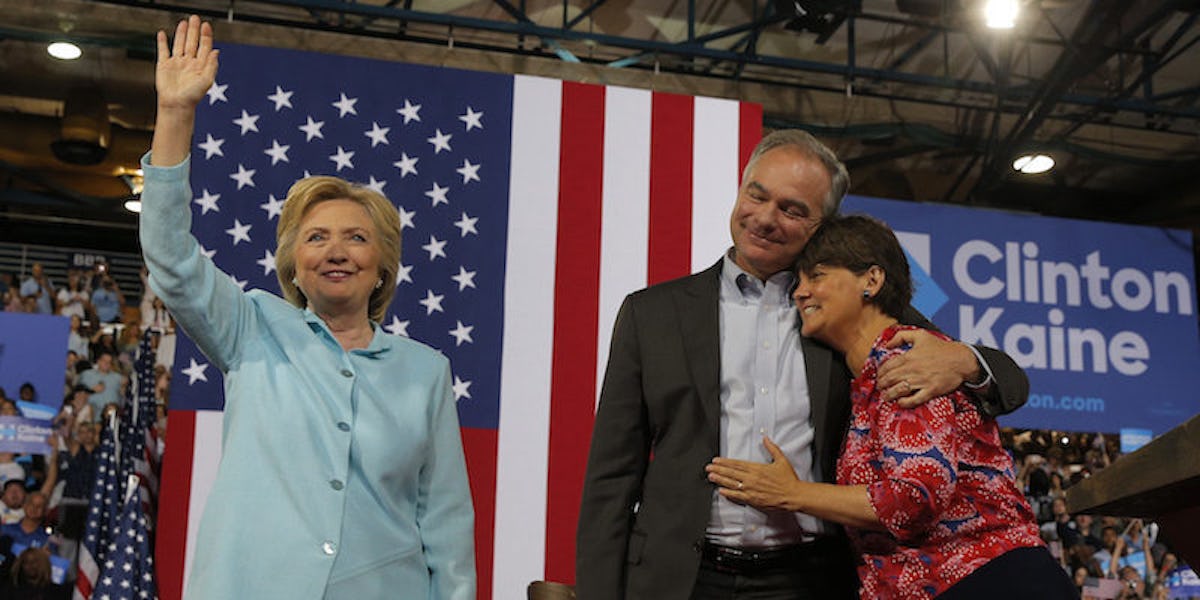 Anne Holton Doesn't Get Why We All Freaked Out Over 'Hot' Husband Tim Kaine
REUTERS
Anne Holton knows you think her husband was hot.
Her husband, Tim Kaine, is currently running for vice president with the Hillary Clinton campaign. During the Democratic National Convention, he was introduced with a video that included photos of him when he was younger.
And, um, we kind of lost it over how hot he was. I mean:
Holton was a little confused about our collective freak-out, telling Cosmopolitan she and Kaine "got a good laugh out of it."
Although we thought he was cute, Holton had a different opinion. She thought he looked "pretty goofy" back when he was young.
But then Holton went and gave us some major #RelationshipGoals. She said,
I have to say, I think he's pretty hot now. I think he's hotter now than he was then.
Holton and Kaine met at Harvard Law School. Holton was an undergrad at Princeton. She worked as a legal aid lawyer and family court judge before becoming Secretary of Education for Virginia.
Her life has been almost entirely tied up in politics. Holton's father served as the governor of Virginia in the 1970s. He sent her and her siblings to public schools that used to be segregated for black children to encourage integration.
In her adult life, she and Kaine shared parenting duties as both of them served the public in their own ways. When he was mayor of Richmond and she was a judge, he would pick the kids up from school. He told people he couldn't schedule meetings at certain times because of his parenting duties.
Holton said,
Men ought to be making public choices and not being shy about it, that they are setting boundaries because they're involved in child care or because they're involved in other things besides their work.
You also may have noticed that Holton and her husband don't share the same last name.
She told Cosmo they got married in the 80s and didn't really care about the name issue. She said,
I never asked Tim to change his name, he never asked me to change mine.
Right on.
Citations: Cosmopolitan, Washington Post