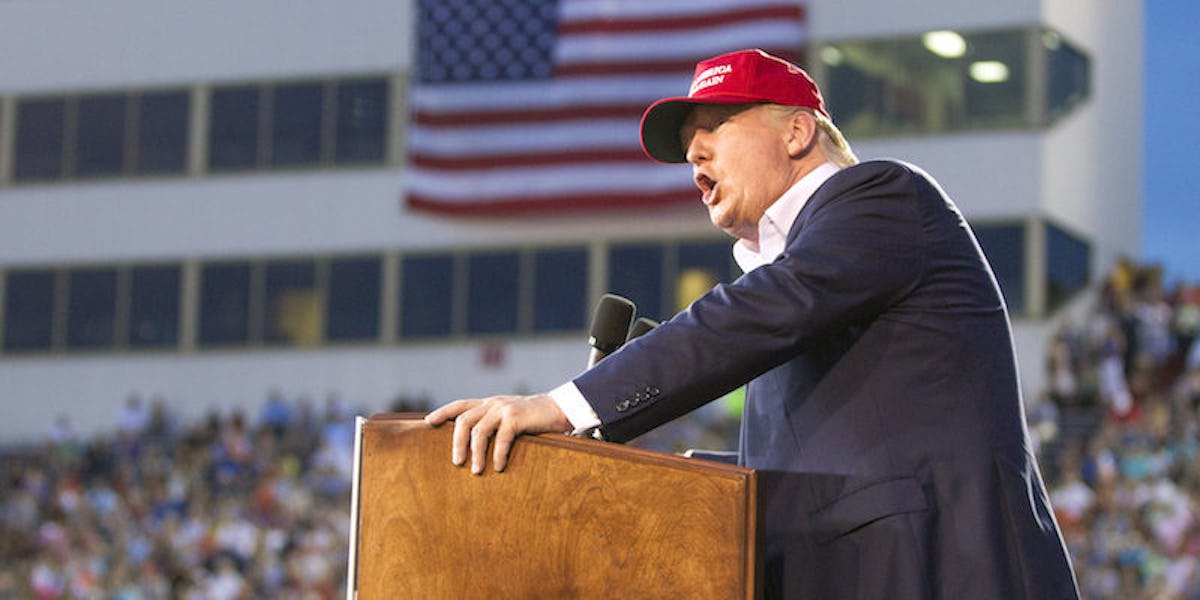 Most Americans Don't 'Realistically' See Donald Trump As Our President
Getty Images
Republican presidential candidate Donald Trump loves to remind people he's at the top of the GOP presidential field almost as much as he enjoys perpetuating the myth President Obama is a Muslim from Kenya.
Headline reads" Rubio passes Bush in Florida poll" -- Unfair, because Trump destroys them both! Trump 31.5%, Rubio 19.2%, Bush 11.3% — Donald J. Trump (@realDonaldTrump) September 23, 2015
2016 Republican Primary Morning Consult Poll was just released. TRUMP 32, CARSON 12, BUSH 11, FIORINA 6, RUBIO 5, CRUZ 5. Taken after debate — Donald J. Trump (@realDonaldTrump) September 22, 2015
I am attracting the biggest crowds, by far, and the best poll numbers, also by far. Much of the media is totally dishonest. So sad! — Donald J. Trump (@realDonaldTrump) September 21, 2015
Indeed, the incendiary real estate mogul leads in the 2016 national Republican primary polls, but that doesn't mean a majority of Americans see the GOP frontrunner as presidential material.
A new Bloomberg Politics poll shows nearly 70 percent of Americans do not realistically envision Donald Trump as president of the United States.
Concurrently, almost half of the 1,001 American adults who participated in the poll say they have a "realistic vision" of Hillary Clinton becoming president.
In other words, this poll suggests Americans see Clinton as the most realistic candidate for president, and Trump as the least.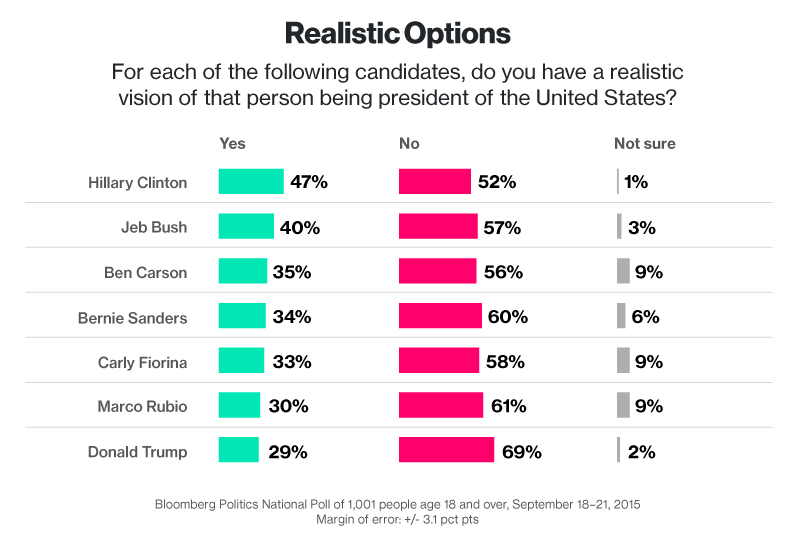 What this all goes to show is it's far too early to draw any comprehensive conclusions about whom we might see in the White House after next year's election.
It's also unlikely this will shut up Trump any time soon, but one can always hope.
Citations: Americans See Hillary Clinton, Jeb Bush as Presidential Material, Bloomberg Poll Finds (Bloomberg Politics), 2016 National Republican Primary (Huffington Post)